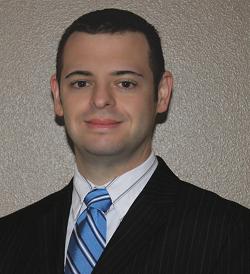 Sheriff Craig Webre has announced the hiring of Brennan Matherne as Public Information Officer (PIO) for the Lafourche Parish Sheriff's Office. Matherne comes to the Sheriff's Office after working for over six and a half years at Lafourche Parish Government. He had been employed there as PIO since July 2009 and prior to that time served as de facto PIO during emergencies while employed as Director of Parks, Recreation and Public Facilities.
During his tenure with parish government, Matherne acted as spokesman and handled media relations during major events such as Hurricanes Gustav and Ike in 2008 and the Deepwater Horizon Oil Spill in 2010. He represented parish government countless times on local/regional media and has given several national media interviews as well. He also helped usher the parish into the "social media age" by redesigning the website and integrating Twitter and Facebook. Matherne is a 2003 graduate of Nicholls State University where he earned a Bachelor of Arts Degree in Mass Communication.
"I am truly humbled to be joining the Lafourche Parish Sheriff's Office, and I look forward to continuing to serve the citizens of Lafourche Parish." said Matherne. "I sincerely appreciate the experiences I've had working for Lafourche Parish Government, and I am now looking forward to a long, exciting career with the Sheriff's Office."
Before his stint in parish government, and upon his graduation from Nicholls, Matherne worked as News/Sports Director at Coastal Broadcasting of Larose, Inc. (KLRZ 100.3 FM and KLEB 1600 AM) where he hosted "Talk on the Bayou," a popular daily, local talk show.
"We are very delighted to have Brennan come on board as part of our team," said Sheriff Webre. "I've had the good fortune of watching Brennan's career develop from his early days in media to his work in Parish Government, and he truly possesses the enthusiasm and philosophy we are looking for. We recognize that we live in the information age and that communications and information delivery mechanisms have evolved significantly in the last decade. Brennan will help this office to remain relevant and competitive in that arena. Moreover, because of his Lafourche heritage and background, he has an in-depth knowledge of the culture and people he will be serving."
In addition to his duties with the Sheriff's Office, Matherne will also serve as Program Coordinator for Bayou Region Crime Stoppers which helps several local law enforcement agencies by asking the public for tips on crimes. Matherne replaces former PIO Lesley Hill who left earlier this month for personal reasons. He can be contacted at (985) 532-4338 or by email at brennan-matherne@lpso.net.
New Public Information Officer Hired