Sheriff Craig Webre announced deputies are searching for a Transitional Work Program (TWP) inmate who escaped custody from his work site at the Port of St. Mary on Saturday. According to investigators, the escapee, Ronnie Delaune (W/M, DOB 12/11/1973), has reportedly been heavily using crack cocaine since his escape. His last whereabouts were in the Larose area where he was seen in a blue 1997 GMC Yukon sport utility vehicle bearing a Louisiana license plate with the number "VNK 245."
Delaune arrived at the TWP on August 8, 2011. He had been sentenced to serve over 2 years (775 days) for violating his parole in July of this year when he was arrested for careless operation of a motor vehicle and possession of drug paraphernalia.
Sheriff Webre urges anyone with information about Delaune's whereabouts to call 911 immediately.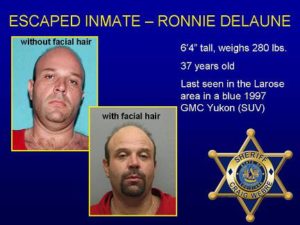 Public's Help Requested in Locating Escaped TWP Inmate