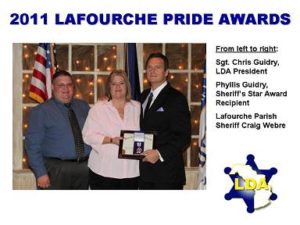 Lafourche Parish Sheriff's Office employees and outstanding citizens were recognized for their hard work, dedication and heroic actions this past weekend at the 18th Annual Lafourche Pride Banquet and Awards Program held Saturday, September 24 at the Larose Civic Center. The Lafourche Deputies Association sponsors this evening with the financial help and support of member deputies and many local businesses. Along with good food, friends and music, Sheriff Craig Webre utilizes this annual event to take time to publicly honor those individuals who, over the past year have saved a life, captured a dangerous felon, risked their own personal safety for others, or performed their job in law enforcement in a distinguished or commendable manner.
This year, the top honor went to Phyllis Guidry who received the Sheriff's Star for her 10 years of service with the Sheriff's Office. This award is given annually by Sheriff Webre to the individual who embodies the "Whatever it Takes" motto. In addition to serving as Property Control and Off-duty Detail Manager, Guidry (or "Fe" as she is known to her fellow employees) served as a vital member of the Accreditation Team and has also coordinated the Investment Recovery Program, Pool Unit Assignments, and the Retention of Records. She has recently taken on the scheduling for the Mobile Command Post and even finds the time to help other commanders in coordinating parade schedules.
LIFE-SAVING AWARDS
Eight-year-old Jordan Miller received the Life-Saving Award for his actions in saving the life of his father, Gene. The two were building a deer stand together in Mississippi when his Gene fell 14 feet from the top of the deer stand to the ground. He was disoriented and unable to seek help. Jordan was somehow able to assist his father onto the back of an ATV and find his way back to camp, where a friend then assisted by bringing them to the hospital.
Leitenant Andrew Labat, K-9 Deputy Anthony Stelly and Port Fourchon Harbor Police Officer P.J. Lyons were each presented the Life-Saving Award for their actions in rescuing a woman from a car that had rolled into the bayou. The Louisiana Emergency Preparedness Association (LEPA) had previously recognized their efforts with an award earlier this year.
Deputy Amy Guillot received the award for her actions in talking down a crime victim who was planning to take her own life. A Life-Saving Award also went to Corrections Officer Stanley Jones who performed CPR on an inmate who collapsed in a courtroom. Because of his actions and the assistance of the court personnel, the inmate's life was saved.
Three deputies received the Life-Saving Award for using CPR on victims. Captain Karla Beck saved the life of a total stranger while off duty at a waterpark. She noticed a man lying face down in a pool, jumped into the water and pulled the unconscious man to the banks where she performed CPR. Paramedics later determined the man had experienced a seizure and would have surely drowned if not for Beck's life-saving efforts. Deputy Chastity Thompson was recognized for saving her step-father's life after he feel to the floor and stopped breathing. She performed CPR and was able to obtain a pulse and restore his breathing until paramedics arrived. Deputy Koby Richard was recognized for his actions of performing CPR on a child who had stopped breathing. He was able to restore the child's pulse so the ambulance could transport him to the hospital.
A large contingent was recognized for their collective efforts in saving the life of a survivor of a boating accident which had unfortunately killed another person. The second boater was found alive, and had it not been for the actions of those involved, his life may have been lost that day as well. Receiving Life-Saving Awards for these efforts were Deputy Cody Naquin, Sergeant Jeff Prevost, Sergeant Kent Matherne and Captain Dean Savoie of the LPSO Support Services Division and several employees of VIH Cougar Helicopters including pilots Grant Mills and Mike Bolling, Corpsman Richard Cormier and Rescue Steve Johnson. The following individuals also received Certificates of Commendation for their actions: Lieutenant Danny Eschete of the LPSO Support Services Division; Deputies Shelly Savoie and Sabina Miller and Lieutenant Valerie Martinez of LPSO Police Social Services; Captain Larry Terry, Sergeant Troy Dufrene and Officer Tait Lafont of the Port Fourchon Harbor Police; Officer Reggie Pitre of the Golden Meadow Police Department; Lieutenant Chad Hebert of the Louisiana Department of Wildlife & Fisheries; Joe Wheeler, Port Manager for the Leonard Miller Airport; and Chief Pilot Rusty Munsey of VIH Cougar Helicopters.
DISTINGUISHED SERVICE AWARDS
K-9 "Possum," who gave his life in pursuit of a suspect in August 2011, was honored with a Distinguished Service Award accepted by his partner Deputy Paul Finn. Criminal Investigation Division Captain Chad Shelby also received a Distinguished Service Award and was recognized for representing the LPSO at the 244th Session of the FBI National Academy earlier this year. Similarly, Sergeant Jennifer Knight received the service award and was recognized for her attendance at the Northwestern School of Police and Command Staff. Also receiving Distinguished Service Awards were Lieutenant Michael Beck, Crossing Guard Eddie Hadley, and Reservists Columbus Kennedy and Dr. Jonathon Allen.
CERTIFICATES OF COMMENDATION
Several LPSO employees as well as outstanding citizens received certificates of commendation. Twelve-year-old Maegan Foret was recognized for her courage and quick thinking that helped get a dangerous criminal off the streets. Foret was approached by a "stranger" who tried to lure her to join him saying he was looking for his little sister. Maegan said, "no," and immediately left, but was pursued by the man. She began to run and made it home to notify her mother of the encounter. Mother and daughter got in their vehicle and, while on the phone with deputies, spotted the man and made sure deputies found him and took him into custody. He was discovered to have a long criminal history which included attempted kidnapping.
Other civilians honored were Percy and Shannon Billiot who received a Certificate of Commendation for their assistance in helping deputies track down and apprehend a suspect. Susan Martinez was also recognized for her dedication in helping Hispanic victims in the community by providing service as an interpreter.
Captain J.P. deGravelles, Lieutenant Michael Beck and Deputy Jeff Arceneaux were honored for repairing the roof of a disabled LPSO retiree's home after a tornado struck. The men risked their own safety by working to repair the roof in the middle of the thunderstorm. John Hoyt received a commendation for his actions which saved the lives of two people during an incident. Communications Deputy Cammie Boudreaux-Guidry was commended for her actions in helping identify a suspect in a bank robbery. Communications Deputy Brandi-Raye Allemand received a certificate for her efforts in helping bring a suspected killer to justice. For her work with the children of PACT (Parents and Children Together) Place, Communications Deputy Wendy Plaisance was recognized, and the entire Communications Section was also awarded a Unit Commendation.
Unit Commendations were awarded to the Proactive Police Unit (Deputy Derek Champagne and Deputy Richard Reidel), Training Academy staff, Range Safety Officers, and the Information Technology Section. Other individuals who received Certificates of Commendation for their outstanding work included Investigation Division Deputy Commander Lieutenant Todd Charlet, Juvenile Detective Sergeant Toby Gambarella and Patrol Deputy Joseph Anderson.
RETIREES
LPSO retirees Terry Lyle, Phillip Avery, Norris Brown and Gary Price were also recognized for their years of dedication and service. Lyle served a total of 19 years under Sheriff Webre. He began his work with the Sheriff's Office as a patrol deputy in 1980. From there, he held several security positions before returning to the Sheriff's Office in 1992. Lyle moved through the ranks and served as Captain over the Narcotics and Administration Divisions. In 2006, he was promoted to Major, oversaw the Information Technology Section, and was instrumental in leading the Sheriff's Office to achieve its first National Accreditation. During his tenure, Lyle was recognized with the Distinguished Service Medal and the Sheriff's Star. Avery retired in January after 18 years of service as a Bailiff, Process Server and Community Service Coordinator. In 2004, Avery earned the Sheriff's Star for his commitment to duty and his pride in his work. Brown served the agency for 29 years at the Transitional Work Program, and Price served as the agency's Chief Financial Officer for 13 years.
SPECIAL AWARD
Grand Isle Mayor David Camardelle made a guest appearance that evening to present a special award to Sheriff Craig Webre and Chief Deputy Bud Dill. The award was presented to them on behalf of the service of the men and women of the Sheriff's Office in taking care of the needs of the people of Grand Isle, especially in times of crisis such as tropical storms and hurricanes.
Recap of the 2011 Lafourche Pride Awards