Sheriff Craig Webre announced the arrest of Phoenix Barrios (age 38) and Brittany Laurent (age 26), both of Des Allemands, after agents discovered remnants of a meth lab, as well as illegal narcotics, at their residence.
Agents with the Lafourche Parish Drug Task Force and Louisiana Probation and Parole executed a search warrant at a Des Allemands residence on Monday, October 24. Upon arrival, agents found the residence was occupied by Laurent, Barrios, and Barrios' juvenile daughter. In conducting the search, agents located five clonazepam pills, three pills only available by prescription, and drug paraphernalia. They also located several coffee filters containing suspected methamphetamine. Agents conducted a field test on the substance which yielded a positive result for the presence of methamphetamine. After discovering the methamphetamine in the coffee filters, agents continued searching and located several components associated with a meth lab both inside and outside the residence. Agents determined the methamphetamine and clonazepam to belong to Barrios, while the other pills belonged to Laurent, but both were charged in reference to the meth lab items discovered.
Barrios and Laurent were both placed under arrest and transported to the Lafourche Parish Detention Center in Thibodaux. They were each booked with Creation or Operation of a Clandestine Laboratory for the Unlawful Manufacture of a Controlled Dangerous Substance and Possession of Drug Paraphernalia. Barrios was also charged with Possession of Methamphetamine, Possession of Clonazepam, and Illegal Use of a Controlled Drug in the Presence of Persons under 17 Years Old, and her bond was set at $16,000. Laurent was additionally booked with Illegal Possession of Prescription Narcotics, and her bond is set at $10,500. Laurent is also being held for Louisiana Probation and Parole due to a probation violation.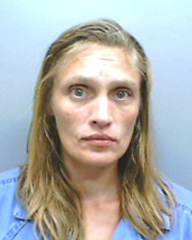 Agents Discover a Meth Lab and Illegal Narcotics at a Des Allemands Residence