Lafourche Parish Sheriff Craig Webre is asking for the public's help in locating a fugitive with nine active warrants for several felony crimes. Taylor Broussard (age 21) is wanted for stalking, auto theft, battery, aggravated assault, and other crimes.
On Wednesday, May 3, deputies responded to a residence on East 16th Street in Larose in reference to a disturbance. Upon arrival, deputies learned Broussard had forced entry into the residence that morning, and he made contact with an ex-girlfriend who resided there. Following a verbal altercation, Broussard began striking the woman with his fists. A juvenile was present, and the woman shielded the juvenile as Broussard continued to strike her. At one point, Broussard brandished a knife and began threatening the woman. He used the knife to slash the bed sheet and cut through the mattress, and he damaged several other items in the room. The victim was eventually able to escape to a neighboring residence to call for assistance. Meanwhile, Broussard stole the victim's purse and phone, and he then stole an SUV in which he fled the scene. The stolen vehicle was a dark gray 2012 Mitsubishi Outlander bearing license plate XLG572.
Further investigation revealed Broussard had been staying in the attic for an unknown period of time, stalking the victim. Deputies found bedding, water bottles, food, and plastic bottles filled with urine. Deputies had also been called to the residence a few days prior, on April 29, 2017, in reference to him entering the residence without permission.
Deputies made several attempts to contact and locate Broussard following the incident, but they were unsuccessful. Deputies obtained warrants for Broussard's arrest for two counts of Stalking, Domestic Abuse Battery with Child Endangerment, Domestic Abuse Aggravated Assault, Theft of a Motor Vehicle, Felony Theft, Home Invasion, Unauthorized Entry of an Inhabited Dwelling, and Simple Criminal Damage to Property. Details of Broussard's warrants and the stolen vehicle were uploaded to statewide data systems.
Deputies are asking for the public's assistance in locating Taylor Broussard. He is a white male, approximately 6'2" tall and weighs approximately 160 pounds. His last known address is listed as a residence on South Kibbe Street in Erath. Deputies learned he lived in Lafayette for a period of time before coming to the Larose area. It is unknown whether Broussard remains in Lafourche Parish at this time. Anyone with information on the whereabouts of Taylor Broussard is asked to submit a tip anonymously through Crime Stoppers Bayou Region by phone at 1-800-743-7433 or online at www.crimestoppersbr.org. Tips can also be submitted using the P3 Tips app on your mobile device. Tipsters could be eligible for a reward of up to $1,000 in cash if the information leads to an arrest.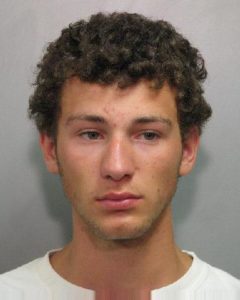 Man Wanted for Stalking, Domestic Abuse, Auto Theft, and Other Charges