Lafourche Parish Sheriff Craig Webre announced an arrest has been made in connection to an armed robbery which occurred on Christmas. Hakeam Drane (age 27) of Schriever has been arrested, and investigators are seeking information on two other unknown suspects.
Just after 10 p.m. on Monday, December 25, deputies responded to a call of an armed robbery at a residence on Dupre Street in Bayou Blue. Through investigation at the scene, deputies learned a woman and two juveniles were at the residence when three black males wearing black beanie hats and black jackets entered the residence. At least one of the subjects, later identified as Hakeam Drane, was armed with a handgun. Drane and the other two men searched through the residence and stole two cell phones. The suspects then left the residence and fled the area on foot. Through investigation, detectives developed Drane as one of the suspects and obtained a warrant for his arrest.
On Wednesday, January 3, detectives made contact with Drane, and he was arrested. He was booked into the Lafourche Parish Detention Center in Thibodaux and charged with one count of Armed Robbery. His bond is set at $100,000, but he is also being held for Louisiana Probation and Parole.
Anyone with information on this crime, or the possibly identities of the other two suspects, is asked to submit a tip anonymously through Crime Stoppers Bayou Region by phone at 1-800-743-7433 or online at www.crimestoppersbr.org. Tips can also be submitted using the P3 Tips app on your mobile device. Tipsters could be eligible for a reward of up to $1,000 in cash if the information leads to an arrest.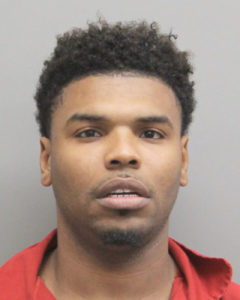 Arrest Made in Bayou Blue Armed Robbery on Christmas