Lafourche Parish Sheriff Craig Webre announced the arrest of Mark Gautreaux (age 27) of Larose on Saturday, March 10 after nearly running over a deputy during a traffic stop.
At around 1:45 a.m. on Saturday, March 10, a deputy observed a motorcycle operator, later identified as Gautreaux, turn onto the lift bridge at East 29th Street in Cut Off. Gautreaux proceeded onto the bridge in a careless manner, stopped on the bridge, and fell off the motorcycle. The deputy proceeded onto the bridge and stopped to investigate. The deputy exited his vehicle and approached Gautreaux on foot, giving loud commands. Ignoring the deputy's commands, Gautreaux got back onto the motorcycle and proceeded forward with the deputy directly in his path. The deputy was able to side-step the assault and escort Gautreaux off the motorcycle and to the ground. Gautreaux began resisting, and while wearing his helmet, he struck the deputy in the face with the helmet. Despite the resistance, Gautreaux was taken into custody. The deputy sustained minor injuries during the incident.
The deputy also noticed the smell of an alcoholic beverage on his breath, and Gautreaux admitted to drinking prior to operating the motorcycle. During a breathalyzer test, Gautreaux was found to have a blood alcohol level of .182g%. The deputy also found Gautreaux had been arrested for his second DWI offense one month prior, on February 11, 2018.
Gautreaux was booked into the Lafourche Parish Detention Center in Thibodaux and charged with DWI (3rd Offense), Aggravated Assault with a Motor Vehicle upon a Peace Officer, Resisting an Officer with Force or Violence, and Careless Operation. He was released after posting $75,100 bond.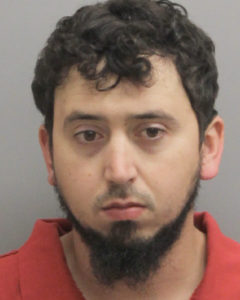 Drunk Motorcyclist Attempts to Run Over Deputy