Lafourche Parish Sheriff Craig Webre announced a Thibodaux man was arrested after knocking a man unconscious and then brandishing a firearm threatening to shoot others in the vicinity. Eric Sylvester, 26, was arrested shortly after the incident which occurred on Thursday, August 17.
At around 7:15 p.m. on Thursday, deputies responded to Winder Road East in Thibodaux in reference to a man pointing a gun at another. Upon arrival, deputies discovered a man lying unconscious on the ground. They learned he had been repeatedly punched in the face by a male suspect who had also pointed a gun at others, threatening to shoot. Due to the severity of the injuries discovered by EMTs, the victim was airlifted to University Medical Center in New Orleans. After obtaining a description of the suspect and the vehicle in which he was traveling, deputies located and made contact with the suspect, and he was identified as Eric Sylvester. Deputies observed a semi-automatic handgun on his front passenger seat.
Sylvester was arrested and booked into the Lafourche Parish Detention Center. He was charged with Aggravated Assault with a Firearm and Second Degree Battery. His bond is set at $10,000.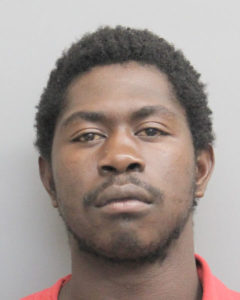 Thibodaux Man Arrested after Beating a Man and Threatening to Shoot Others