Lafourche Parish Sheriff Craig Webre announced detectives are investigating the theft of copper tubing and other parts from a local radio station's transmitter site in Golden Meadow.
On Sunday, November 4, deputies and detectives responded to East Main Street in Golden Meadow in reference to a theft at the radio transmitter site of the KLEB-AM radio station. Investigators learned an air conditioning unit had been dismantled, and the copper parts had been removed. Copper grounding wire had also been stolen from the site. In all, investigators estimate 40-50 pounds of copper had been stolen, resulting in thousands of dollars of damage.
Anyone who may have any information on this case is asked to submit a tip anonymously through Crime Stoppers Bayou Region by phone at 1-800-743-7433 or online at www.crimestoppersbr.org.  Tips can also be submitted using the P3 Tips app on your mobile device. Tipsters could be eligible for a reward of up to $1,000 in cash if the information leads to an arrest.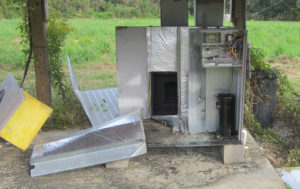 Copper Parts Stolen from KLEB-AM Radio Transmitter Site