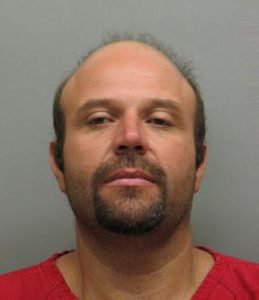 Sheriff Craig Webre reported the apprehension and arrest of a Transitional Work Program (TWP) escapee. Ronnie Paul Delaune (W/M, DOB 12/11/73) of 162 Palm Street in Larose was arrested after a short vehicle pursuit on Tuesday, September 27, 2011. Delaune had escaped custody from his work site at the Port of St. Mary on Saturday, September 24.
Deputies were on the lookout for the blue 1997 GMC Yukon (SUV) which detectives indicated Delaune was last seen driving. Shortly before 2:30 P.M. on Tuesday afternoon, a deputy spotted the vehicle on East 23rd Street heading toward LA Highway 308. At that time, two deputies who were traveling north of East 23rd Street observed the vehicle traveling northbound on LA Highway 308. Both deputies activated emergency lights and sirens pursued the SUV. During the ensuing short vehicle pursuit, deputies observed Delaune cross the center line several times. He was also driving at approximately 80 to 90 mph, passing in no passing zones, ignoring traffic controls and also ran a vehicle off the roadway which was traveling southbound on LA Highway 308.
Delaune finally stopped his vehicle on East Avenue B near its intersection with East 7th Street. Delaune was arrested without incident and transported to the Criminal Operation Center in Lockport where the arrest report was completed. He was then transported to the Lafourche Parish Detention Center where he booked as a fugitive, and was also charged with Aggravated flight from an Officer/Intentional Refusal to Stop/Life Endangerment and Felony Reckless Operation of a Vehicle. He remains at the Detention Center in lieu of $275,150 bond as set by Judge Jerome J. Barbera.
Prior to his escape, Delaune had arrived at the TWP on August 8, 2011. He had been sentenced to serve over 2 years (775 days) for violating his parole in July of this year when he was arrested for careless operation of a motor vehicle and possession of drug paraphernalia.
TWP Escapee Apprehended After Short Vehicle Pursuit