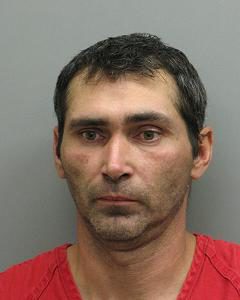 Sheriff Craig Webre announced the arrest of Jason Dufrene (W/M, D.O.B. 07/14/69) of 145 Butsys Lane in Raceland on Monday, October 17, 2011. Dufrene is charged with Simple Rape after confessing to having non-consensual sex with a woman in her 30's during the early morning hours of Sunday, October 16.
At approximately 6:15 A.M. Sunday morning, a call was received regarding a woman found lying face-down at the roadside near the St. Charles Bypass. Deputies responded to the area and after locating the victim, she was transported by ambulance to Thibodaux Regional Medical Center.
Through investigation, detectives learned that the woman was last seen leaving an area bar, where she worked, Sunday night with a man who was later identified as Jason Dufrene. Deputies located Dufrene at his place of employment Monday afternoon, and he agreed to accompany deputies to the Criminal Operation Center in Lockport for questioning. In a statement to investigators, Dufrene confessed to engaging in non-consensual sexual intercourse with the victim and leaving her at the roadside where he deemed her to be "safe."
Dufrene was charged with Simple Rape and booked into the Lafourche Parish Detention Center in Thibodaux. He was released Tuesday afternoon after posting $50,000.00 bond.
Raceland Man Arrested for Rape after Abandoning Victim at Roadside