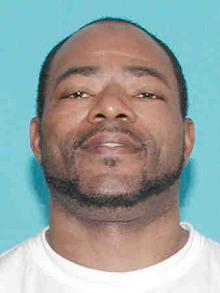 Lafourche Parish Sheriff Craig Webre reported the arrest of one of two suspects wanted in connection to a pair of shootings which occurred last week in Raceland. Gerard Major (B/M, D.O.B. 10/01/78) of 223 Brocato Lane in Raceland was apprehended Thursday evening after a two-hour standoff with the Lafourche Parish Crisis Management Unit. Major was arrested on several charges including two counts of Attempted 2nd Degree Murder stemming from the October 13 incident. He is the alleged shooter in the first shooting incident that day. Jeffery Poindexter (B/M, D.O.B. 10/27/77), the alleged shooter from the second shooting on October 13, is still at large.
In the late afternoon of Thursday, October 20, detectives learned that Major was seen at a residence on Brocato Lane. Deputies were sent to the area, and once they were able to verify that Major was, in fact, inside the house, set up a perimeter and waited for Major to come out. The Lafourche Parish Crisis Management Unit (CMU) responded to the scene and tried to communicate with Major using a loudspeaker, but received no response. After spending nearly two hours attempting to communicate with him to surrender, CMU team members entered the residence and arrested Major without incident.
Deputies had been looking for Major and Poindexter since last week's shootings. On Thursday, October 13, shortly before 3:00 A.M., Major allegedly shot at a vehicle parked at a residence on Triple Oaks Drive in Raceland. Four men were in the car at the time of the shooting, including Poindexter, who had fled from the scene before deputies arrived. Later that same morning, around 8:15 A.M., it is alleged that Poindexter returned with another man, Johnny Poindexter, to the neighborhood and shot at Major. Deputies were able to catch up to and apprehend Johnny Poindexter, but once again, Jeffery Poindexter fled the scene.
Sheriff Webre wants to remind residents that anyone with information that may lead to the arrest of Jeffery Poindexter should call the Lafourche Parish Sheriff's Office immediately. Just remember to dial your prefix and then add "CALL" (2255). Dial 446-2255 in Thibodaux, 532-2255 in Central Lafourche, 798-2255 in South Lafourche, and in Bayou Blue/Houma, dial 868-2255.
Tips can also be submitted anonymously to Bayou Region Crime Stoppers by dialing 1-800-SHERIFF
(1-800-743-7433) or by texting "GIVEATIP" plus your message to 274637. By submitting your tip to Crime Stoppers, You could be eligible for a reward up to $1,000 in cash.
Raceland Shooting Suspect in Custody after Thursday Standoff