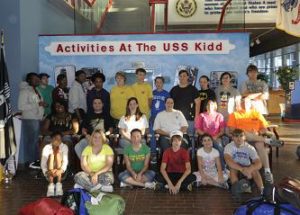 On Saturday, October 15, 2011, members of the Lafourche Parish Sheriff's Office and supporters of Explorer Post #323 took the Explorers to tour and sleep aboard the U.S.S. Kidd in Baton Rouge, LA, as a reward for their hard work year round in supporting the Sheriff's Office at community events. As part of the trip, the Explorers also visited the old and new State Capital Buildings.
The Explorers will be participating in several upcoming events around Lafourche Parish over the next few weeks. They will be making Child Identification Cards (fingerprinting & DNA swabs) on Saturday, October 29 from 10:00 A.M. until 3:00 P.M. at Peltier Park in Thibodaux during a Lions Club event. Later that day, they will also be making Child ID's from 5:00 P.M. to 8:00 P.M. during the 2nd Annual Gheens Monster Mash at the Vacherie-Gheens Community Center. Child ID's will also be made during the Thibodeauxville Fall Festival Saturday, November 12 in Downtown Thibodaux from 9:00 A.M. to 4:00 P.M.
The Explorers will also be assisting with parking and other community service efforts at several local events, just as they did this past weekend at the Louisiana Gumbo Festival at the Chackbay Fairgrounds. This upcoming weekend, October 28 – 30, the Explorers will assist at the 38th Annual French Food Festival in Larose, and the following Saturday (November 5), they slated to help with three separate events at Southdown Plantation in Houma, the St. Joseph Center in Galliano, and Central Lafourche High School in Mathews.
Anyone 14 to 21 years of age interested in joining the Explorers should contact Lt. Lafate Day by e-mail at lafate-day@lpso.net or by calling (985) 532-4327.
PHOTO:
Standing (back row, from left to right): Shanrika Collins, Chris Boudreaux, Abby Lazard, Dylan Charles, C.J. Griffin, Cadey Hensley, Chris Breaux, Amber Erwin, Ranada Sanchez, Anaya Tombleson, Brittney Winston, and Jordan Bellanger.
Sitting (middle row, from left to right): Nicole Frank, Luke Bellanger, Koren Lawes, Wendy Hensley, Jennifer Day and Lafate Day.
Sitting (front row, from left to right): Kiana Jean-Lewis, Mamie Bernucho, Heather Barlow, Nathan Chiasson, Izabella Lirette, and Tyler Dupre.
Explorers Visit USS Kidd; Particpating in Upcoming Events