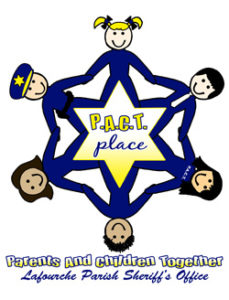 Lafourche Parish Sheriff Craig Webre announced the P.A.C.T. Place Supervised Visitation and Exchange Center recently received a grant in order to maintain operation through September 2014. The Department of Justice's Office of Violence against Women awarded the "continuation grant" valued at $350,000.00 through its "Safe Havens" program.
"This is wonderful news, not only for the Sheriff's Office, but especially for the families that utilize the P.A.C.T. Place," said Sheriff Webre. "I think the fact we received this continuation grant is a testament to the outstanding services that the employees of our center are providing. The children are always their main concern, and the parents recognize the importance of the center and the services we provide."
Pam Guedry, the P.A.C.T. Place Center Coordinator, is delighted to know that the center will be able to continue to serve the families of the region. "We are the only agency in our region to provide this much needed service," said Guedry. "With this funding, we will be able to continue, as well as expand the services we provide to victims of domestic violence, child abuse, sexual assault, and stalking to ensure their safety during this difficult time," said Guedry.
Located at the Lockport Town Hall, The P.A.C.T. Place (Parents and Children Together) is the only supervised visitation center in the nation operated by a law enforcement agency. The mission is to provide a safe, secure and supportive environment for supervised visitation and monitored exchanges to occur in an effort to prevent further impact of domestic violence on children and their abused parent. The center is designed to ensure that both parents remain separate, so that contact between them never occurs. The P.A.C.T. Place provides a child-friendly atmosphere for children to visit with their non-custodial parent.
In addition to serving as Center Coordinator, Guedry is also a member of the P.A.C.T. Place Advisory Committee along with Assistant Coordinator Brandy Deroche. The rest of the committee members represent several area agencies and organizations. Joining Guedry and Deroche in representing the Lafourche Parish Sheriff's Office are Sheriff Webre, Chief Deputy Bud Dill, Major Marty Dufrene, Captain Karla Beck, and Lieutenant Valerie Martinez of LPSO Police Social Services. Thibodaux Police Chief Scott Silverii and Lockport Police Chief Warren Vedros also represent law enforcement on the committee. Representing the legal/judicial system are Judge John Leblanc of the 17th Judicial District Court, Diane Sanders and Geralyn Pitre of the Lafourche Parish District Attorney's Office, and attorneys Rachael Carothers and Andrea Stentz representing the Lafourche Parish Bar Association. The committee also features the following agency representatives: Sharlene Triplet (Lafourche Parish Office of Community Services); Susan Thibodaux (Lafourche Parish School Board); Burnell Tolbert (Lafourche Parish Branch of the National Association for the Advancement of Colored People); Sami Riley (Chez Hope); Jackie Meyers (Prevention Partnership, Inc. and Bayou Council on Alcoholism and Drug Abuse); Linda Landry (Thibodaux Addictive Disorders Clinic); Sabrina Laurent (Women's Resource and Services Office of Nicholls State); Dale Standifer, Tamera Joseph and Alissa LeBoeuf (Metropolitan Center for Women and Children); Julie Pellegrin and Kimberly Clement (The Haven Domestic and Sexual Violence Program); Debbie Triggs (Louisiana Office of Mental Health, Region 3); and Jessica Oliva (Louisiana Office of Public Health, Region 3).
Since opening its doors on October 1, 2009, the P.A.C.T. Place has provided services to 74 children in 49 families. Parents and their children have spent a total of over 700 hours at the center. The P.A.C.T. Place has provided services for families from Lafourche, Terrebonne, Assumption, St. James, Jefferson, and Orleans Parishes. The center services the 17th Judicial District Court (Lafourche), as well as the 32nd Judicial District (Terrebonne), 29th Judicial District (St. Charles), 23rd Judicial District (Ascension, Assumption and St. James), and the 24th Judicial District (Jefferson).
For more information about the center and who is eligible to use its services, contact Center Coordinator Pam Guedry at (985) 532-4390.
P.A.C.T. Place Awarded Continuation Grant for Three Additional Years