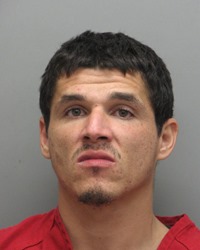 Sheriff Craig Webre and Golden Meadow Police Chief Reggie Pitre announced the arrest of Storm Dantin (age 27) of Cut Off on Sunday, January 3. Dantin is a suspect in an armed robbery which took place on Christmas Eve. Ryan Billiot (age 26) of Golden Meadow was previously arrested in connection to the crime.
Just prior to 3 p.m. on Sunday, January 3, a concerned citizen reported Dantin was spotted walking along LA Highway 1 in Golden Meadow. Golden Meadow Police officers responded, along with assistance from the Lafourche Parish Sheriff's Office, Louisiana State Police Troop C, and Port Fourchon Harbor Police. Dantin was seen running toward a church and eventually ran into a cemetery. While searching the cemetery, officers located Dantin, and he was taken into custody without incident. He was transported to the Lafourche Parish Detention Center in Thibodaux and booked with Armed Robbery. He was also charged with using a firearm in an armed robbery (R.S. 14:64.3). His bond is set at $105,000.
Dantin was arrested for his involvement in an armed robbery which occurred during the early morning hours of Thursday, December 24. Just after 1:00 a.m. that morning, deputies responded to assist Golden Meadow Police after learning three men had just been robbed by two male subjects just outside a bar in the town. One of the suspects was armed with a knife, while the other was armed with a firearm. The suspects stole wallets, money, cell phones and other items from the victims. Through investigation, detectives identified the two suspects as Storm Dantin and Ryan Billiot and obtained arrest warrants for each. Billiot was located and arrested later that morning. He is charged with Armed Robbery, and was also booked on three warrants for Contempt of Court. He remains in jail in lieu of $101,000 bond.
Second Suspect in Christmas Eve Armed Robbery Arrested