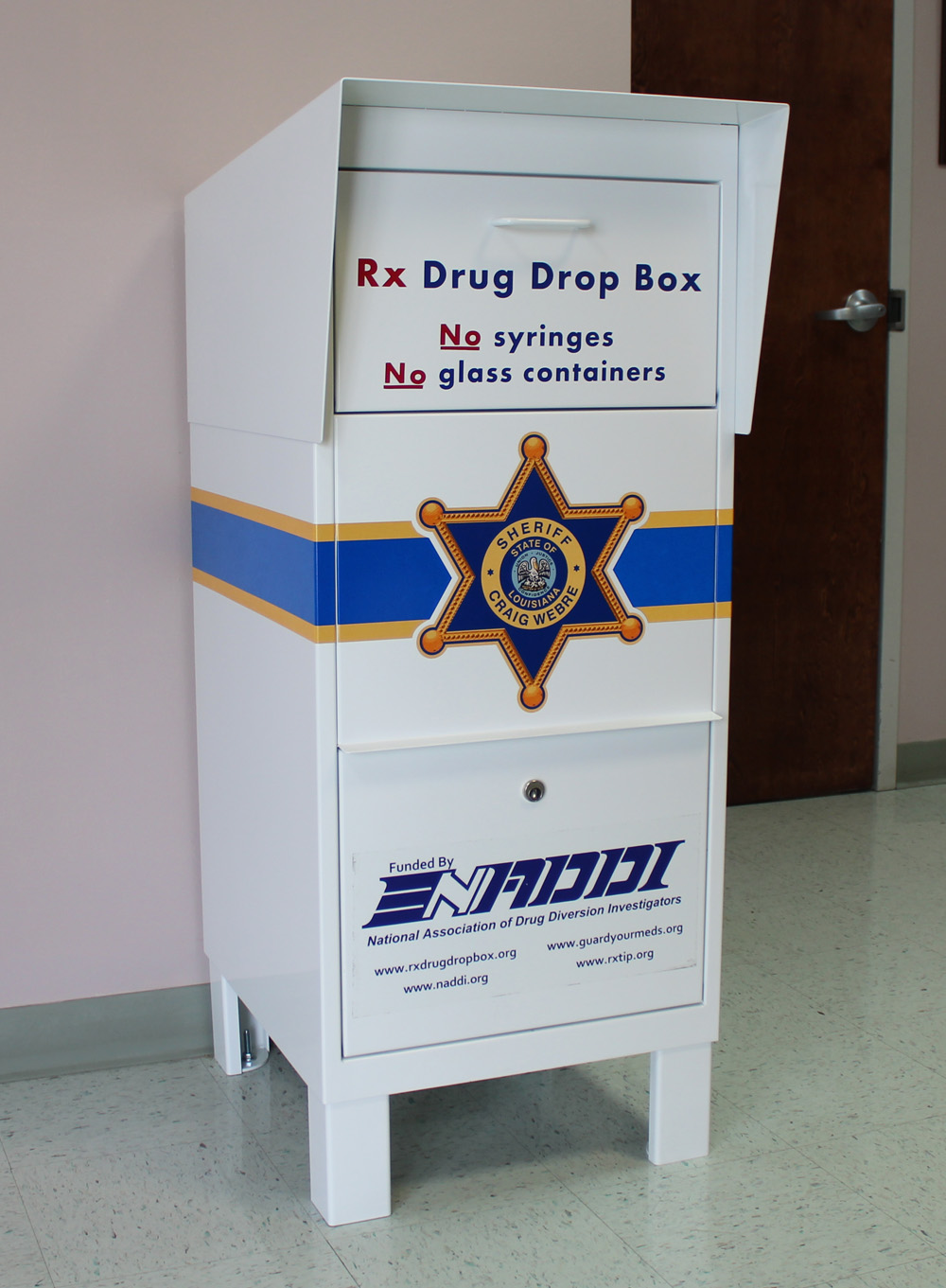 Sheriff Craig Webre announced prescription drug drop-off boxes are now available at Lafourche Parish Sheriff's Office locations to help citizens properly dispose of unwanted prescription medications. These new drop-off boxes were donated by the National Association of Drug Diversion Investigators through a sponsorship by Blue Cross and Blue Shield of Louisiana. The boxes are located in the lobbies of these LPSO locations: Administrative Office (200 Canal Boulevard) in Thibodaux; the Criminal Operations Center (805 Crescent Avenue) in Lockport; and the South Lafourche Sub-station (102 West 91st Street) in Cut Off.
"We have always invited residents to drop off prescription medication anytime throughout the year with no questions asked," said Sheriff Webre. "These boxes take that invitation a step further, making the drop-off easier and faster."
This effort helps prevent pill abuse by allowing people to rid their homes of potentially dangerous expired, unused, and unwanted prescription drugs by turning them over to our Lafourche Parish Drug Task Force for destruction. Medicines that languish in home cabinets are highly susceptible to diversion, misuse, and abuse. Studies show that a majority of abused prescription drugs are obtained from family and friends, including from the home medicine cabinet. Flushing unused medications down the toilet or throwing them in the trash both pose potential safety and health hazards.
"When a loved one passes away or following a major surgery, there could be a myriad of unused prescription drugs left," said Sheriff Webre. "If not properly disposed, they could end up in the hands of relatives or children. We want citizens to be proactive in ridding their homes of these dangerous narcotics, and these drop-off boxes provide a simple means of doing so."
All solid dosage pharmaceutical products and liquids in consumer containers may be accepted. Liquid products, such as cough syrup, should remain sealed in their original container. The depositor should ensure the cap is tightly sealed to prevent leakage. Items that will not be accepted include intravenous solutions, injectable drugs, and syringes (due to potential hazards posed by blood-borne pathogens).
Prescription Drug Drop-off Boxes Available at LPSO Offices