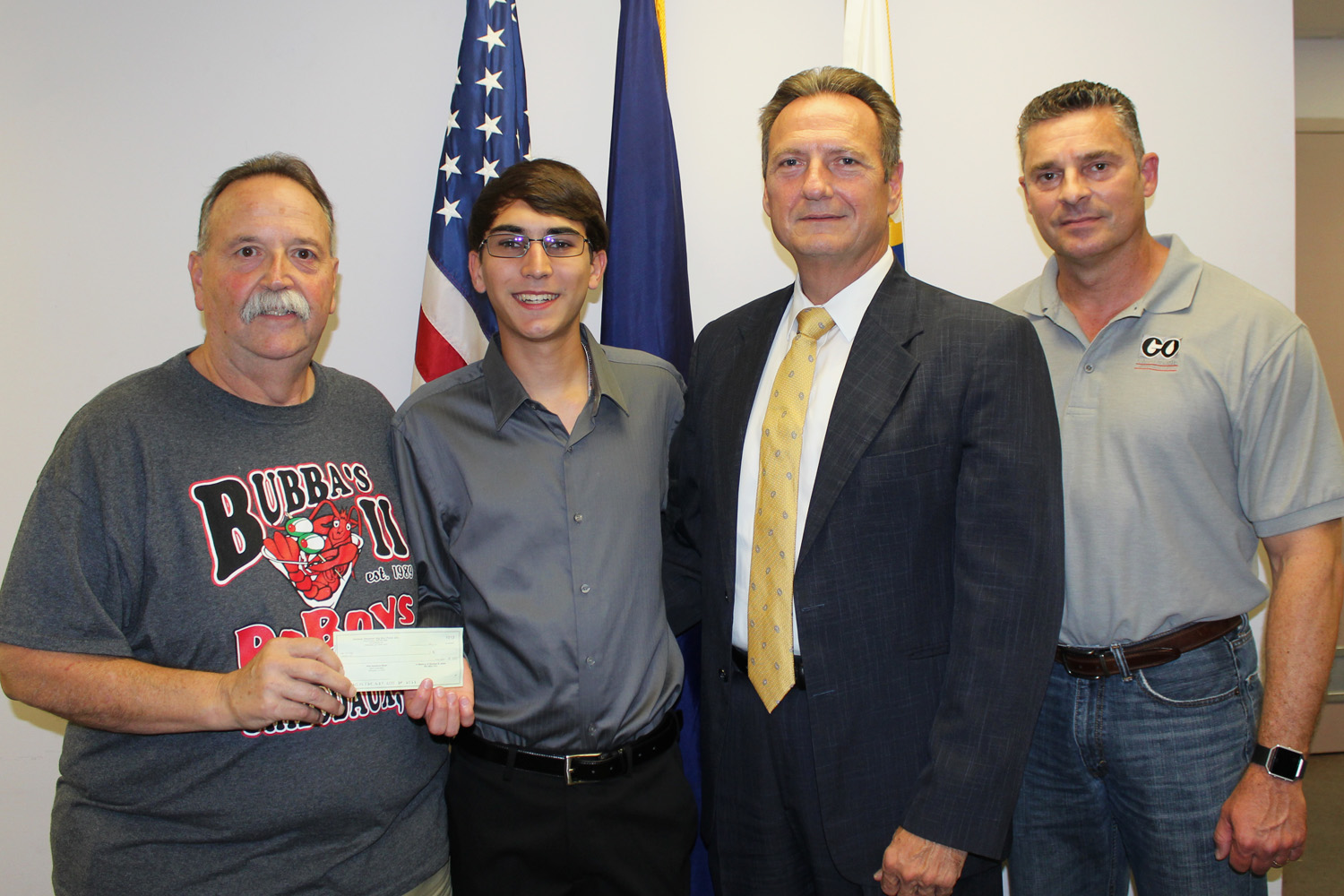 Sheriff Craig Webre announced the launch of a new scholarship program in partnership with the Norman Swanner Foundation. The $500 scholarship will be awarded annually to any Lafourche Parish Sheriff's Office employee or a member of the employee's immediate family who is planning to enroll as a full-time student at a local college. The winner of the first annual scholarship from the Norman Swanner Foundation is Connor Ward who just recently graduated from E.D. White Catholic High School in Thibodaux. Connor, who is the son of LPSO Reserve Captain Paul Lefort Jr., will be attending Nicholls State University in the fall.
In order to qualify for the scholarship, an LPSO employee or an employee's immediate family member must plan to enroll as a full-time student at Nicholls State University, L.E. Fletcher Technical Community College, or South Central Louisiana Technical College. The award is paid for attendance at one of these institutions as a full-time, undergraduate student. This means it can be awarded to graduating high school seniors or any student already attending a local college and planning to enroll again in the fall. The scholarship is awarded as a gift, not a loan, to defray the rising costs of tuition and related expenses in higher education. There are no restrictions on the purposes for which the scholarship is spent.
Connor was selected for the award by an independent board of review for the scholarship. Not only did Connor graduate with an excellent grade point average, but he was also involved in numerous extracurricular activities in school and in the community. Most notably, in Boy Scouts, Connor achieved the rank of Eagle Scout, and he has volunteered numerous hours of service to the community. He also maintained perfect attendance for 11 years of school beginning in 2nd grade. Connor now plans to pursue a degree in Accounting or Business and plans to remain living in the Thibodaux area with dreams of possibly opening his own business.
The scholarship opportunity was announced to all Lafourche Parish Sheriff's Office employees in April, and the deadline for application submissions was May 2, 2016. In future years, the application window will coincide with the same timeline as the LSA scholarship with a call for applicants in February and an application deadline of April 1.
The Norman Swanner Foundation is a non-profit organization created in memory of Norman Swanner, a Thibodaux resident who passed away on November 8, 2006. Swanner was a City Councilman at the time of his death. Swanner's daughter, Jamie Beth Swanner, also passed away on December 24, 2012. Each year the foundation's largest fundraiser is the "Night Out with Norman and Jamie" held annually at the Nicholls State Ballroom.
Swanner was a big fan of Nicholls athletics, and he would cook and tailgate at many events, home and away. The Foundation has helped fund several projects such as pavilions at Nicholls used for tailgating and cooking events near the football, baseball and softball stadiums. The Foundation also funded the Norman Swanner Dog Park in Thibodaux, as well as several other awards and scholarships for students at Nicholls State University, and several high schools including E.D. White, Thibodaux, Central Lafourche, South Lafourche, and West Jefferson – just to name a few.
The Foundation is also active in the community, funding the Norman Swanner Dog Park in Thibodaux, as well as countless causes and events, including but certainly not limited to Night Out Against Crime, Let Freedom Ring Festival, Relay for Life, and of course the Thibodeauxville "Big Boy's Main Street Cook-Off" – which was named as such in memory of Swanner.
Norman Swanner Foundation Awards First Annual Scholarship for LPSO Employees and Family Members