The Lafourche Parish Sheriff's Office, Louisiana State Police Troop C, Thibodaux Police Department, Lockport Police Department, Golden Meadow Police Department, Port Fourchon Harbor Police, and the Nicholls State University Police are teaming up to raise funds for the Dallas-area police officers killed and injured in the line of duty on July 7, 2016. Officers from all these law enforcement agencies will hold can shakes at several different locations throughout Lafourche Parish this Saturday, July 16, from 8 a.m. to 1 p.m. in a local effort entitled, "Support Dallas, #BackTheBlue".
Can shakes will be conducted at the following locations this Saturday:
Intersection of LA 3185 and LA 1, Thibodaux
LA 308 at United Community Bank, Thibodaux
LA 20 at Our Lady of Prompt Succor Catholic Church, Chackbay
Intersection of LA 182 and LA 316, Bayou Blue
LA 1 at the north Raceland Lift Span Bridge, Raceland
LA 1 at Ochsner St. Anne General Hospital, Raceland
LA 308 at the Champagne-Harrelson Memorial Bridge, Mathews
Crescent Drive (LA 1) at the LPSO Criminal Operations Center, Lockport
LA 308 at the South Lafourche Bridge, Galliano
Lafourche Parish Sheriff's Office employees will also hold an internal "Jean Week" fundraiser wherein employees can donate $25 to wear jeans to work for the week of July 18-22.
Sheriff Craig Webre said, "The families of those Dallas officers have been in our thoughts and prayers since the horrific incident, but our deputies just felt like they wanted to do more. It's a true testament to the selfless men and women of the law enforcement community that serve Lafourche Parish, and I am proud to serve with them."
All proceeds from these fundraising efforts will be donated to Dallas-area charities to provide financial assistance to the families of those officers wounded or killed in the July 7 incident. Those wishing to make a direct contribution online can do so to the Assist the Officer Foundation (www.atodallas.org) or The Line of Duty Fund of The Dallas Foundation (www.dallasfoundation.org). Those wishing to contribute to our local fundraising efforts can drop off donations at any Lafourche Parish Sheriff's Office location and make checks payable to the Sheriff Craig Webre Charitable Foundation.
For questions or more information, please contact Detective Jeff Chamberlain at (985) 275-0097 or jeff-chamberlain@lpso.net.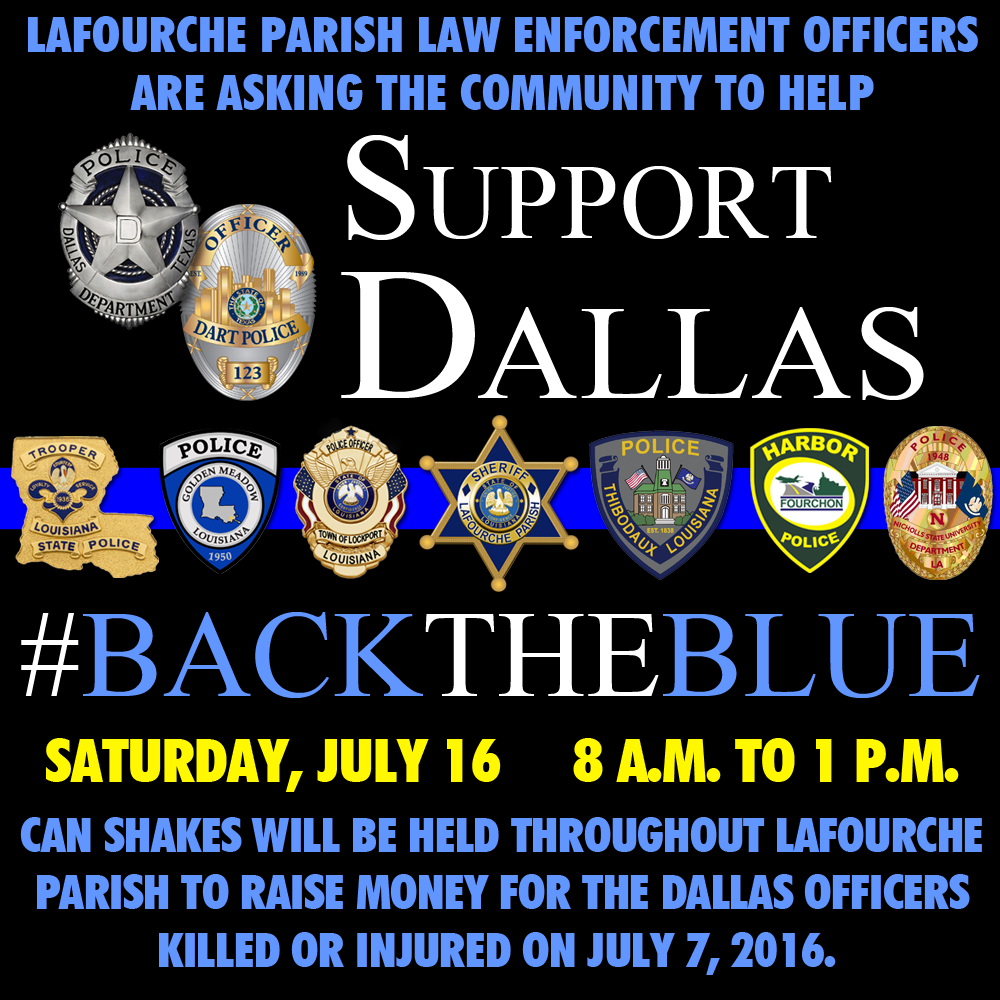 SUPPORT DALLAS, #BACKTHEBLUE: Local Law Enforcement Agencies to Raise Money for Dallas Officers