With the "creepy clown" sightings now being reported in Louisiana, local law enforcement officials are reminding citizens of a state law prohibiting such activity. Per Louisiana R.S. 14:313, the wearing of a hood, mask, or facial disguise of any kind is prohibited in public places with obvious exceptions for certain holidays. While there have been no confirmed reports of "creepy clown" sightings in Lafourche Parish, Sheriff Craig Webre, Thibodaux Chief of Police Bryan Zeringue, Lockport Chief of Police Warren Vedros, and Golden Meadow Chief of Police Reggie Pitre are issuing a stern warning against such behavior.
"Dressing up as a creepy or evil-looking clown and lurking around residential neighborhoods for the purpose of terrorizing others is not a prank," said Sheriff Webre. "It's not funny, and in fact, it's against the law. Anyone caught exhibiting such behavior will be criminally charged."
The warning comes as creepy or evil-looking clowns have been spotted lurking in neighborhoods in some areas of the country. While many of the initial reports have been discredited, police believe people are copying the behavior from the initial viral news stories reporting such behavior. On Friday, a 20-year-old Kentucky man was arrested for stalking around a Kentucky town. Also, two schools in Alabama were put on lockdown last week after online threats involving clowns. Online rumors began circulating about a possible sighting in Lafourche Parish this week, but no sightings have been reported to law enforcement. Citizens are cautioned not to spread rumors on social media causing unnecessary fear for other residents.
"If you encounter one of these clowns, report it immediately to law enforcement, and do not take matters into your own hands," said Sheriff Webre. "We have seen several people commenting on social media that they would use deadly force against these individuals if found on their property, but you cannot legally shoot someone merely for trespassing in your yard, whether they are in costume or not. Again, we ask that you contact law enforcement, and let us handle the situation."
Golden Meadow Chief of Police Reggie Pitre said, "Spooking your friends is one thing, but terrorizing a community is an act that will not be tolerated. I would like to encourage everyone to have a safe and enjoyable Halloween Season, but creeping around as an evil clown is not recommended unless you feel the need to be charged and/or arrested."
Louisiana R.S. 14:313 does contain exceptions for the prohibition on masks and facial disguises, such as on Halloween. Even then, citizens should always report suspicious behavior to law enforcement.  A conviction of this crime carries a sentence of no less than six months and up to three years in prison.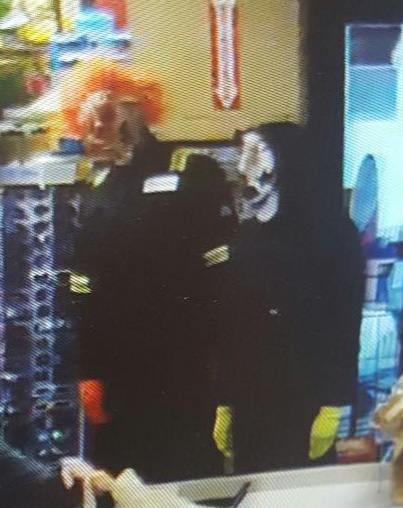 Officials Warn "Creepy Clowns" to Stay Out Of Lafourche Parish