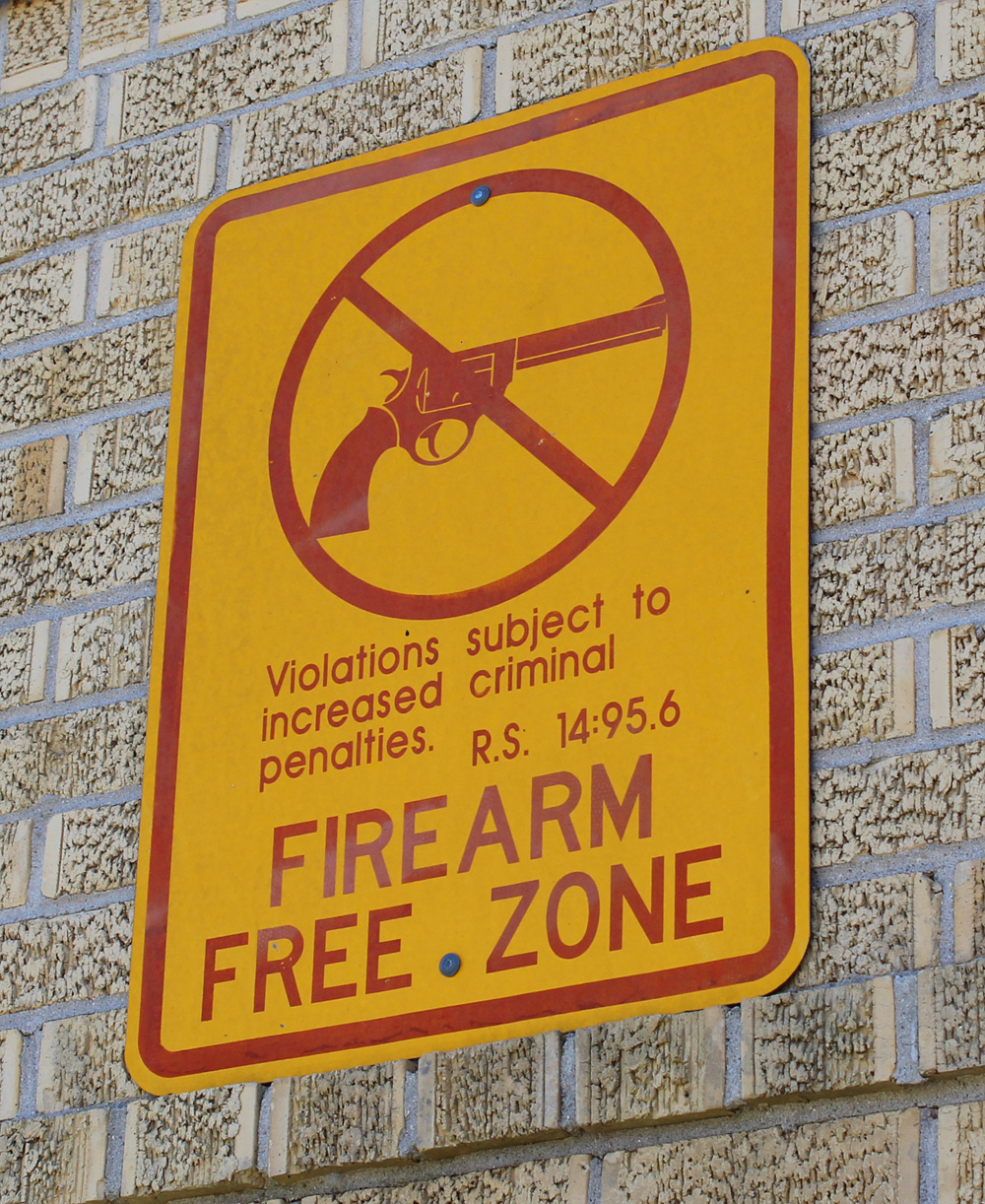 Lafourche Parish Sheriff Craig Webre and Lafourche Parish Schools Superintendent Dr. Jo Ann Matthews are educating the public on the issue of guns on school property. Recent incidents involving air-powered pistols have generated many opinions and questions with parents and students, especially over social media. Sheriff Webre and Superintendent Dr. Matthews are offering clarification with regard to laws and school board policy and asking parents to play a role in ensuring events such as these do not occur.
"Any student found in possession of any gun could be criminally charged," said Sheriff Webre. "Just like with any investigation, we will thoroughly investigate and decide what charges should be brought in every situation. It is imperative that parents know where their guns are at all times, and even check their children's school bags if necessary."
The term "gun" could refer to a "firearm" or one which is "air-powered." Federal firearm laws define a "firearm" as any weapon which expels a projectile by the action of an explosive. Because non-powder guns, including traditional B.B. guns, pellet guns, and "airsoft" guns, use compressed air to expel the projectiles instead of gunpowder, they are not considered "firearms" under federal law. They do, however, discharge projectiles, often at high rates of speed and with significant force and can be considered dangerous weapons.
Not only could a student be criminally charged for possession of a gun, it is also a violation of Lafourche Parish Schools policy. Possession of firearms or dangerous weapons on school property, school buses, or at school-sponsored activities are listed as "suspendable acts." The policy further prohibits possession of anything made to resemble a firearm, which includes toy guns which do not shoot projectiles of any kind. Depending on several factors, including the severity of an offense and the quantity of past and present offenses, any suspendable act can result in expulsion per the policy.
"We will administer consequences to students who bring any type of weapon on school grounds, and we will suspend and recommend students for expulsion when this occurs," said Dr. Matthews. "We owe it to our staff and students to make our school campuses the safest possible place for students to learn. This includes numerous measures, including cameras in schools and school buses, metal detectors, School Resource Officers, training of staff, and one point of entry for schools."
"It is important to understand the differences in laws and policies, but it is also important to remember there are consequences for violating either," added Sheriff Webre. "While an act may not be illegal, there could still be a school policy prohibiting it, resulting in disciplinary action by the school, which could include expulsion. Our School Resource Officers will continue to work with school officials to resolve any and every incident to ensure the utmost safety of the students and faculty."
Gun owners are strongly urged to keep all guns locked away and out of the reach of children. This includes air-powered guns. Regardless, gun owners should always know where the guns are at all times.
"Even for those who consider air-powered guns to be toys, these weapons are often used to commit crimes and have even cost individuals their lives because of their resemblance to an actual firearm," said Sheriff Webre.
Citizens who wish to learn more specifics about laws as it relates to firearms and dangerous weapons on or near school property are urged to research Louisiana laws, especially Revised Statutes 14:95.2 (firearms and dangerous weapons on school property), 14:95.6 (firearm-free zones),  and 40:1379.3 (concealed handgun regulations, including firearm-free zones). These can be found on the Louisiana State Legislature's website, www.legis.la.gov.
To learn more about Lafourche Parish Schools policy, or to download a copy of the 2016-2017 Parent & Student Handbook, visit The Lafourche Parish School District website, www.lpsd.k12.la.us.
Officials Clarify School Gun Laws and Policies, Ask Parents to Help Keep Schools Safe