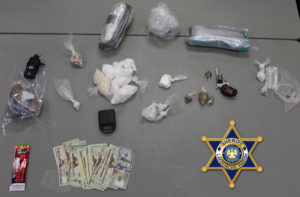 Lafourche Parish Sheriff Craig Webre announced the arrest of a Mississippi fugitive which led to the seizure of over $68,000 of illegal narcotics. James Jones (age 36) of Mississippi was arrested on Wednesday, May 17, and he faces a number of felony drug and weapons charges.
At around 11:15 a.m. on Wednesday, May 17, deputies responded to an apartment building on West 178th Street in Galliano and learned James Jones had threatened a woman. Deputies learned Jones had several active warrants in Mississippi for charges including assault on a police officer, possession of cocaine, and weapons charges. Neither Jones nor the victim was present at the apartment.
Later that day, deputies discovered Jones' SUV turning down West 208th Street in Galliano. Deputies blocked off the street and approached the area on foot. As they did, Jones started driving the vehicle back toward LA 1. At that time, deputies approached the SUV and ordered Jones out of the vehicle. He was immediately taken into custody. Jones initially gave deputies a false name, but he was properly identified after deputies discovered his identification card. Jones did not have a valid driver's license, and the license plate on the SUV was expired. Deputies also located three bags on the ground which Jones had allegedly thrown from the vehicle and a fourth bag inside Jones' vehicle. Inside the bags, deputies discovered several types of suspected narcotics. He also had several hundred dollars in his possession.
Back at the apartment complex, deputies made contact with the victim and learned Jones had threatened to physically harm her during a verbal altercation earlier that day. During a subsequent search of Jones' residence, agents discovered large amounts of suspected narcotics, drug paraphernalia, and a revolver. In all, agents seized the following amounts of suspected narcotics: over 1,150 grams of marijuana, over 408 grams of methamphetamine, over 49 grams of cocaine, nearly 36 grams of crack cocaine, 286 MDMA pills, and 2 clonazepam pills. The approximate total street value of the drugs seized is $68,445.
Jones was initially transported to the South Lafourche Sub-station where he was found to be hiding tobacco, a cell phone, and a charger on his person. Jones was later transported to the Lafourche Parish Detention Center where he was booked with Possession with Intent to Distribute Marijuana, Crack Cocaine, Cocaine, Methamphetamine, Clonazepam, and MDMA. He was also charged with Possession of a Firearm by a Convicted Felon, possession of a firearm in the presence of narcotics, Possession of Firearms with an Obliterated Number, Possession of Drug Paraphernalia, Taking Contraband to a Penal Institution, Simple Assault, Resisting an Officer, expired license plate, and no driver's license. His bond is set at $132,200, and he is also being held for Mississippi probation and parole agents.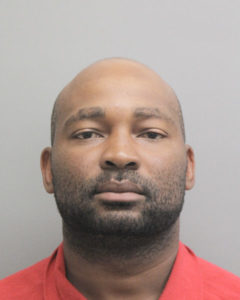 Apprehension of Mississippi Fugitive Leads to Seizure of over $68,000 of Narcotics