Lafourche Parish Sheriff Craig Webre reported the arrest of Urie Ledet (age 30) of Gheens on four counts of aggravated assault, including two against deputies.
At around 6:45 p.m. on Thursday, July 6, deputies responded to a disturbance on North Leon Drive in Gheens wherein a man was allegedly chasing a woman with a knife. Upon arrival to the area, deputies received a report that Urie Ledet was seen walking along LA Highway 654 with a large cane knife in his hand, and they later learned he was at a residence in the 2100 block. Upon arrival to the residence, deputies heard a disturbance in the back yard and proceeded to the area. Ledet appeared from the rear of the house and began approaching deputies aggressively with the knife raised. Deputies ordered Ledet to drop the knife, and he did so after several loud verbal commands. Ledet was taken into custody and the knife was secured.
Through investigation at the scene, deputies learned Ledet was chasing another man around his yard with the knife prior to deputies' arrival. Deputies also made contact with a woman who said Ledet approached her with the knife forcing her to climb on top of a shed. Ledet then reportedly began throwing the knife in the woman's direction, threatening to kill her. When questioned about the incident, Ledet admitted to his involvement.
Ledet was transported to the Lafourche Parish Detention Center where he was charged with two counts of Aggravated Assault and two counts of Aggravated Assault on a Police Officer. His bond is set st $22,000.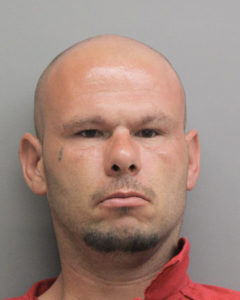 Man Wielding Cane Knife Arrested for Threatening Citizens and Deputies