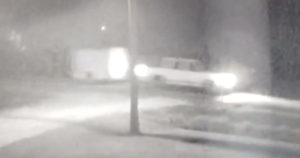 Lafourche Parish Sheriff Craig Webre announced a vehicle suspected to be involved in a Bayou Blue burglary earlier this month has been discovered through reviewing surveillance video. A reward is being offered for information leading to the arrest of the person or persons responsible for the burglary which investigators now believe occurred during the early morning hours of Monday, July 3.
As previously released, detectives responded to the 100 block of Bayou Blue Road on Thursday, July 6 in reference to the burglary of a mobile home and shed. Investigators discovered signs of forced entry into both structures. They also discovered motion-sensor lights had been damaged and wires to security cameras had been cut. Several items of value were stolen, including an enclosed trailer, an all-terrain vehicle, an outboard motor, a pressure washer, a shotgun, a crossbow, fishing rods and reels, various tools, and other items.
Through further investigation, detectives discovered video surveillance footage from a nearby residence which showed a white SUV, believed to be a Chevrolet Suburban or GMC Yukon, driving away from the scene towing what is believed to be the stolen trailer. The image was captured at 3:28 a.m. on Monday, July 3.
Detectives are asking for the public's assistance to solve this case. Anyone who may have information on this crime is asked to submit a tip anonymously through Crime Stoppers Bayou Region by phone at 1-800-743-7433 or online at www.crimestoppersbr.org. Tips can also be submitted using the P3 Tips app on your mobile device. Tipsters could be eligible for a reward of up to $1,000 in cash if the information leads to an arrest.
UPDATE: Suspect Vehicle Identified in Bayou Blue Burglary