Lafourche Parish Sheriff Craig Webre announced the arrest of Davontae Poindexter (age 27) of Bayou Blue following a pursuit in Raceland.
At around 9:15 p.m. on Wednesday, July 26, deputies observed a pickup truck traveling over the speed limit headed eastbound on LA Highway 182 in Raceland and attempted to initiate a traffic stop. The driver, later identified as Poindexter, stopped the vehicle for a moment, then continued eastbound traveling at speeds estimated to be over 100 miles per hour in an area with a speed limit of 55 miles per hour. Poindexter continued on LA 182, passing other vehicles in a no passing zone, before turning onto LA Highway 653. Poindexter then turned right onto Magnolia Street, eventually ending up on Azalea Street where his truck left the roadway and crashed into a small ditch before coming to a stop in a yard. When deputies approached the vehicle, they found it to be unoccupied, and began to search the area for the driver.
At around 12:45 a.m., deputies observed a subject walking through residential yards draped in a tarpaulin in order to conceal his identity. The subject was apprehended and identified as Poindexter, and he admitting to driving the vehicle which fled from the traffic stop.
Poindexter was transported to the Lafourche Parish Detention Center in Thibodaux where he was booked per the two active warrants for Contempt of Court. He was additionally charged with Criminal Trespassing, Aggravated Flight from an Officer, Reckless Operation, Speeding, and improper lane usage. His bond is set at $55,550, and he has been ordered to pay $574.50 in fines and costs or serve 20 days in jail in reference to one of the contempt warrants.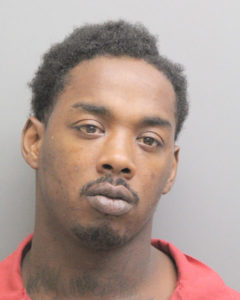 Fugitive Tries to Avoid Capture by Draping Himself with a Tarpaulin