Lafourche Parish Sheriff Craig Webre announced the arrest of Jermie Charles (age 28) of Galliano for a aggravated assault, property damage, and other charges following a shooting incident which occurred Thursday night.
At around 11:40 p.m. on Thursday, August 10, deputies responded to a call of a possible shooting in the area of Jermie Charles' residence on West Main Street in Galliano. Upon arrival, deputies were unable to find any parties willing to cooperate with the investigation. The following morning, the victim, who is related to Charles, called and agreed to cooperate in the investigation, and detectives responded to the scene. Detectives learned the victim had arrived at Charles' residence to speak to him, and when he arrived, Charles allegedly aimed a gun at the victim's head. The victim pushed the barrel of the firearm away, and Charles reportedly fired several rounds into the rear cab of the victim's pickup truck. Detectives observed two .22 caliber shell casings inside the vehicle and other evidence of rounds being fired into the vehicle.
Detectives made contact with Charles on Friday afternoon, detectives made contact with Charles at his residence. He was found to have two loaded magazines in his possession with the same caliber rounds found to have been used in the incident. Detectives found Charles, who is a convicted felon, also had a protective order prohibiting him from possessing a firearm.
Charles was arrested and transported to the Lafourche Parish Detention Center in Thibodaux where he was booked with Aggravated Assault with a Firearm, Aggravated Criminal Damage to Property, Possession of a Firearm by a Convicted Felon, and Violation of a Protective Order. His bond is set at $130,000.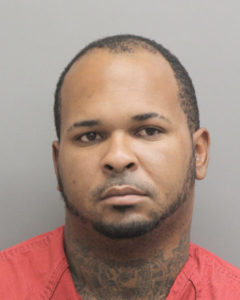 Galliano Man Arrested Following Shooting Incident on Thursday