Lafourche Parish Sheriff Craig Webre announced a Cut Off felon arrested last week after shooting at deputies during a pursuit now faces an additional charge. Daniel Borne (age 39) has been booked with Theft of a Firearm after detectives learned he allegedly stole the firearm used in the incident.
As previously released, warrants were issued for Borne's arrest after he missed the start of a jury trial on Tuesday, October 17. Borne was then facing charges which included burglary, theft, DWI, drug possession, and traffic violations. On Tuesday afternoon, deputies were on East 58thStreet investigating a case wherein Borne had allegedly stolen a truck, and deputies later learned he had also stolen a motorcycle from another resident. While on scene, Borne returned to East 58th Street, and he refused to stop when deputies attempted to conduct a traffic stop. He then led deputies on a pursuit which began along LA Highway 308 toward Larose and continued on LA Highway 3235 from Larose to Galliano. During the pursuit, Borne fired multiple rounds at pursuing deputies while holding a passenger in the vehicle against his will. Borne eventually ran out of gas and attempted to flee on foot, but deputies surrounded him and took him into custody without further incident. Detectives later discovered several bullet holes in the tailgate area of the stolen truck Borne was driving, as well as a business on West Main Street in Galliano.
The following day, October 18, another Cut Off resident reported a gun had been recently stolen from his residence. Detectives developed Borne as a suspect in the theft and found that the serial number of the stolen gun matched the serial number of the gun recovered at the scene the previous day.
Following the initial incident, Borne was booked into the Lafourche Parish Detention Center in Thibodaux on four counts of Attempted First Degree Murder of a Peace Officer, Aggravated Flight from an Officer, Aggravated Kidnapping, Aggravated Criminal Damage to Property, Possession of a Firearm by a Convicted Felon, Illegal Use of Weapons, two counts of Theft of a Motor Vehicle, and eight counts of Contempt of Court. He is now additionally charged with Theft of a Firearm, and his total bond is now set at $3,435,000.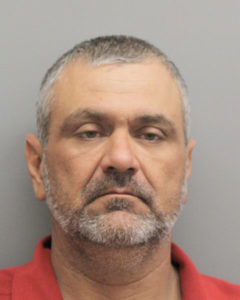 UPDATE: Additional Charge for Man Who Shot at Deputies During Pursuit