Lafourche Parish Sheriff Craig Webre announced the arrest of a Dulac man after deputies discovered marijuana and firearms in his vehicle during a traffic stop. Andre Bonvillain (age 26) was arrested early Tuesday morning.
At around 1:25 a.m. on Tuesday, November 28, a deputy observed a vehicle which appeared to be traveling without a license plate and conducted a traffic stop on LA Highway 182 near U.S. Highway 90 in Raceland. The deputy made contact with the driver and identified him as Andre Bonvillain. The deputy discovered the vehicle did have a temporary tag, but it was not visible or properly displayed. While speaking to Bonvillain, the deputy detected the odor of marijuana coming from the vehicle. Bonvillain admitted to smoking marijuana in the vehicle earlier in the day. Deputies conducted a search of the vehicle and found seven small bags containing over 20 grams of suspected marijuana, a digital scale, and other paraphernalia commonly associated with the sale of illegal narcotics. Deputies also discovered a revolver and bullets located near the driver's seat, and a rifle was discovered in the trunk along with 40 rounds of ammunition.
Bonvillain was arrested and transported to the Lafourche Parish Detention Center in Thibodaux. He was booked with Possession with Intent to Distribute Marijuana, Illegal Carrying of a Weapon in the Presence of a Controlled Dangerous Substance, Possession of Drug Paraphernalia, and improper display of temporary license plate. His bond is set at $51,100.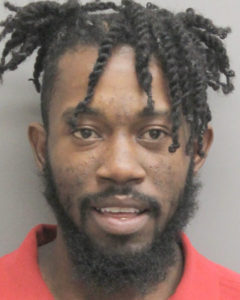 Dulac Man Found with Narcotics and Firearms during Traffic Stop