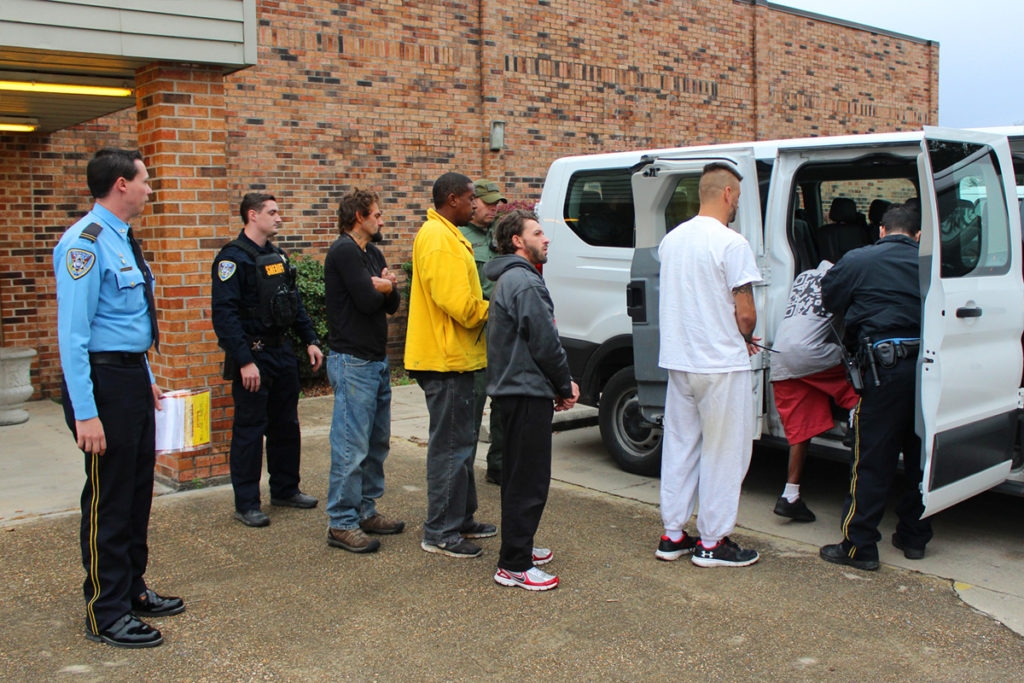 Lafourche Parish Sheriff Craig Webre and District Attorney Kristine Russell were on hand Thursday morning in Thibodaux as members of multiple agencies fanned out across the area for a roundup of "deadbeat" parents who are behind in their child support payments. Arrest warrants were prepared on 66 individuals who are collectively in arrears of their child support payments of over $1.1 million.
"The efforts made by law enforcement this morning will make a dramatic difference in our ability to recover the outstanding  support payments so many children depend on in Lafourche Parish,"  said District Attorney Kristine Russell.  "We are incredibly appreciative of Sheriff Webre, Chief Brian Zeringue, Chief Jon Callais, and Louisiana Probation and Parole in helping bring these individuals to justice today."
Of the 66 individuals, 28 were specifically targeted in the roundup as the highest priority. A total of 20 individuals were arrested as part of the operation, and two other fugitives were arrested who were not part of the operation. Officials say they expect additional arrests to be made in the coming days. The combined child support payments owed by the arrested individuals amounts to nearly $430,000.
The following individuals wanted for failure to pay child support were arrested as part of the operation:
Taylor Adams, 42, of Lockport
Ernest Bellanger III, 35, of Mathews
Jared Benoit Sr., 31, of Thibodaux
Terry Bourg, 34, of Galliano
Clifton Coleman Sr., 24, of Raceland
James Dominique Jr., 26, of Gheens
Kealen Duet, 44, of Golden Meadow
Casey Flores, 33, of Galliano
Jordan Foret, 40, of Raceland
Samuel Grabert, 22, of Raceland
Nolan Guidry, 40, of Golden Meadow
Craig Leblanc, 42, of Larose
Dallas Ledet, 39, of Thibodaux
Jamie Martinez, 27, of Thibodaux
Robert Martinez, 36, of Lockport
John Matherne, 44, of Cut Off
Frederick Owens, 32, of Thibodaux
Michael Robinson, 44, of Thibodaux
Shantell Taylor, 42, of Golden Meadow
Robbie Terrebonne, 34, of Larose
The Knights of Columbus Hall on St. Patrick Street in Thibodaux served as the base of operations for Thursday's roundup. This operation combined the efforts of the Lafourche Parish Sheriff's Office, Lafourche Parish District Attorney's Office, Thibodaux Police Department, Port Fourchon Harbor Police, and the Louisiana Department of Probation and Parole.
"These roundups are important to impress upon these people that they do have an obligation to pay," said Sheriff Webre. "We hope this effort sends a message to the community, especially to those who are behind on their child support payments, that we are vigilant in holding these individuals accountable for what they owe."
Anyone who owes child support payments is encouraged to contact the Lafourche Parish District Attorney's Office at (985) 448-3422 as soon as possible. Anyone who knows the location of any person wanted for failure to pay child support can submit information anonymously via Crime Stoppers Bayou Region by calling 1-800-743-7433 or by submitting a tip online at www.crimestoppersbr.org.
Lafourche Parish Child Support Roundup Nets 20 Arrests