Lafourche Parish Sheriff Craig Webre announced a man has been arrested in the shooting death of 37-year-old Donovan King of Thibodaux. On Tuesday, Marlon Johnson (age 19) of Thibodaux was charged with second degree murder in the incident.
At 8:56 p.m. on Monday, February 19, deputies responded to a call of a man, later identified as King, being found dead outside Johnson's residence at 416 Frederick Drive in Thibodaux. King was found to have suffered gunshot wounds on his body, including his head. Through investigation, detectives learned Johnson and King had been involved in a verbal altercation earlier that day, and Johnson was developed as a suspect in the case.
Deputies located Johnson on Monday and brought him in for questioning. Johnson initially denied any involvement, but he later confessed to shooting King, claiming self-defense. Through investigation, evidence collected at the scene, and Johnson's own statement, detectives determined Johnson did not kill King in self-defense, and obtained a warrant for his arrest.
Johnson is charged with Second Degree Murder in the incident, and he was also booked on an outstanding warrant for Contempt of Court. He was booked into the Lafourche Parish Detention Center in Thibodaux, and his bond is set at $1,001,500.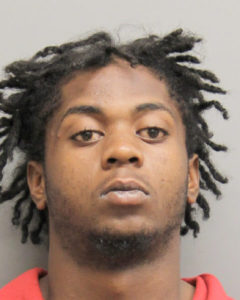 UPDATE: Thibodaux Man Charged with Second Degree Murder in Monday's Shooting