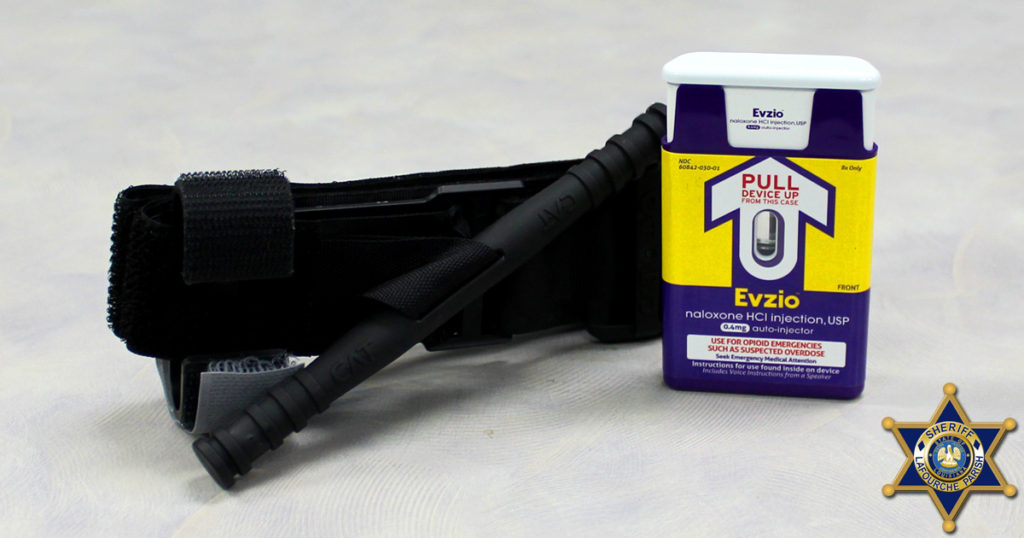 Lafourche Parish Sheriff Craig Webre announced many deputies are now carrying naloxone injectors and tourniquets to be able to provide immediate treatment in an emergency. Naloxone, which is sold under brand names such as Evzio and Narcan, is used as a temporary antidote to treat an opioid overdose in an emergency. Naloxone blocks or reverses the effects of opioid medication, including extreme drowsiness, slowed breathing, or loss of consciousness. Tourniquets are devices used to constrict or compress a portion of an extremity when there is serious bleeding in which death is imminent due to blood loss.
"Because we respond to a wide variety of calls, deputies sometimes find themselves in situations where people need immediate assistance to save their lives," said Sheriff Webre. "While our deputies are already trained in basic CPR, these new measures will afford them the opportunity to help even more individuals in an emergency before an ambulance arrives."
Such an instance occurred at around 11:20 a.m. on February 6, 2018, when deputies received a call that a man was locked inside a truck, unresponsive, with a needle in his hand. When the deputy arrived on scene, a relative had pulled the man from the truck, and he was lying unresponsive on his back. The deputy then utilized his agency-issued naloxone injector and administered a single dose. The deputy then noticed the man's breathing and skin color began to improve. EMTs with Acadian Ambulance arrived on scene and transported the man to Thibodaux Regional Medical Center for treatment. Within less than one hour, he was alert and recovering at the hospital. This was the first instance in which an LPSO deputy used a naloxone injector.
In addition to providing first aid in an overdose, the naloxone injectors also provide a safety measure for officers who may inadvertently come in contact with dangerous opioids, such as fentanyl, during the course of their job. Several officers around the country have been killed when coming in contact with small grains of fentanyl.
In November 2017, the Lafourche Parish Sheriff's Office received 130 naloxone injectors from the Louisiana Department of Health's Bureau of Emergency Medical Services. The bureau obtained a grant to distribute naloxone to law enforcement agencies. LPSO also received vouchers for additional naloxone injectors from the Louisiana Attorney General's Office. The tourniquets were obtained through a grant from the United States Department of Homeland Security.
While these tools can be used to save a life in an emergency situation, proper training is required for all deputies who carry these items. Through the direction of Acadian Ambulance and University Medical Center in New Orleans, a training program has been developed for any LPSO deputies who choose to carry the naloxone injectors and tourniquets.
Sheriff Craig Webre said, "Naloxone is not a cure for drug addiction, nor is it an answer for the opioid crisis. With that said, part of our mission is to save as many lives as possible. These injectors can help our deputies accomplish that goal. If we can save the life of someone who has overdosed, hopefully, they will view it as a wake-up call and get the treatment they need."
LPSO Deputies Carrying New Emergency Lifesaving Tools