Lafourche Parish Sheriff Craig Webre announced a Thibodaux man was caught stealing tractors parts and other items after he crashed during his getaway. Trenton Parrick (age 33) is charged with felony theft, as well as DWI and other violations . His passenger, an unidentified male, is still being sought.
At 12:50 p.m. on Wednesday, March 21, deputies responded to a theft in Thibodaux. Deputies learned subjects in a red truck had stolen tractor parts and other items from property located on Abby Road. The total value of the items stolen was later determined to be over $2,000.
While in route, deputies learned of a two-vehicle crash on Coulon Plantation Road in Thibodaux in which one of the vehicles was the suspects' truck. Deputies learned both the driver and passenger fled the scene of the crash on foot. After obtaining descriptions of the subjects from witnesses, deputies located and apprehended one of the subjects, identified as Trenton Parrick, who was identified as the driver of the truck.
Troopers from Louisiana State Police Troop C arrived on scene to investigate the crash. Parrick was found to have an expired driver's license, an expired motor vehicle inspection sticker, and no license plate. Troopers also conducted an investigation into possible impairment, and Parrick's blood was drawn due to suspected alcohol and drug use. The results of the blood test are pending.
Parrick was initially transported to the hospital for an examination due to the crash. Following his release from the hospital, Parrick was booked into the Lafourche Parish Detention Center. He was charged with Felony Theft, DWI (1st Offense), Hit and Run Driving, improper passing, expired inspection sticker, no license plate, and an expired driver's license. He was additionally booked on an outstanding warrant for Contempt of Court. His bond is set at $78,400.
Investigators are still looking for the second suspect in the incident who is described as a black male. Anyone who may know the identity of the suspect is asked to submit a tip anonymously through Crime Stoppers Bayou Region by phone at 1-800-743-7433 or online at www.crimestoppersbr.org. Tips can also be submitted using the P3 Tips app on your mobile device. Tipsters could be eligible for a reward of up to $1,000 in cash if the information leads to an arrest.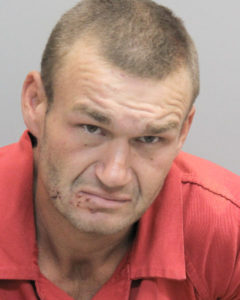 Impaired Driver Crashes Truck After Stealing Tractor Parts; Passenger Being Sought