Lafourche Parish Sheriff Craig Webre announced one person has been arrested and three others are being sought after two people were shot during an armed robbery in Thibodaux early Thursday morning. Kyrie Verdin (age 20) of Thibodaux has been charged in the incident, and Justen Harris (age 21) of Houma is being sought as well as two other unidentified male suspects.
At around 2:40 a.m. on Thursday, April 12, deputies responded to an incident at the Cypress Court Trailer Park in Gray wherein two people had been shot. Upon arrival, deputies learned a 22-year-old male and an 18-year-old female sustained injuries in the shooting. The male was struck in the right foot and left index finger, and the female was struck on the thigh, just above the knee. Both were transported to Thibodaux Regional Medical Center for treatment.
Investigators learned Verdin had contacted the female victim earlier in the evening and told her she would be stopping by the residence. Verdin traveled to the residence with Harris and the two other men who planned to rob the male victim. Verdin was the first to approach the residence, and she made contact with the female victim outside. Investigators learned Verdin pulled the female victim aside as Harris and the other two men entered the residence. All three men were wearing hooded sweatshirts, and at least one was armed with a handgun. They allegedly broke down the male victim's bedroom door and fired multiple rounds at him. The male victim fired several rounds back at the suspects. The female victim was in another bedroom and was struck during the exchange of gunfire.
Following an investigation, detectives obtained warrants for Verdin and Harris. Verdin was taken into custody on Thursday. She was booked on two counts of Attempted First Degree Murder and Attempted Armed Robbery. Her bond is set at $1.1 million.
Justen Harris also has active warrants for two counts of Attempted First Degree Murder and Attempted Armed Robbery. Anyone with knowledge of his whereabouts, or anyone who can possibly identify the other two male suspects in the case is asked to submit a tip anonymously through Crime Stoppers Bayou Region by phone at 1-800-743-7433 or online at www.crimestoppersbr.org. Tips can also be submitted using the P3 Tips app on your mobile device. Tipsters could be eligible for a reward of up to $1,000 in cash if the information leads to an arrest.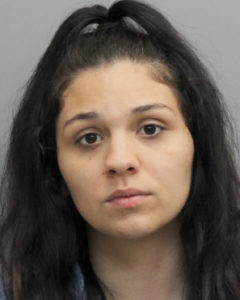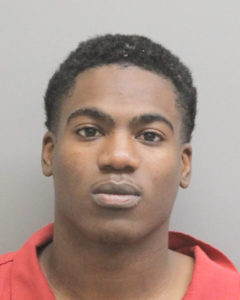 One Arrested, Three Sought in Attempted Murder and Robbery in Gray