Lafourche Parish Sheriff Craig Webre announced the arrest of a Houma woman for making threats at a state office. Deidre Bluford (age 32) is charged with Terrorizing in the incident.
On Thursday, April 19, deputies responded to the Louisiana Department of Children and Family Services Child Support Enforcement Office located at 1442 Tiger Drive in Thibodaux in reference to threats. Upon arrival, deputies learned Bluford had arrived at the office for a scheduled appointment. During a conversation with a case worker, Bluford became very agitated and left the office. Moments later, Bluford returned to the office and made a threat regarding employees at the office. Following an investigation into the incident, deputies obtained a warrant for her arrest for Terrorizing.
Then on Monday, April, 23, Bluford returned to the same office. After learning Bluford was present at the office, deputies arrived, and she was taken into custody.
Bluford was transported to the Lafourche Parish Detention Center in Thibodaux. She was booked on the aforementioned warrant for Terrorizing. She was also booked on warrants for two counts of Contempt of Court for Thibodaux City Court. Her bond is set at $53,500.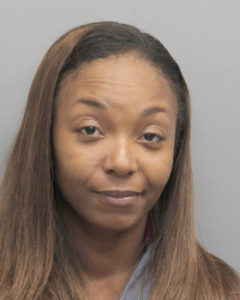 Houma Woman Arrested for Threatening Workers at a Child Support Office