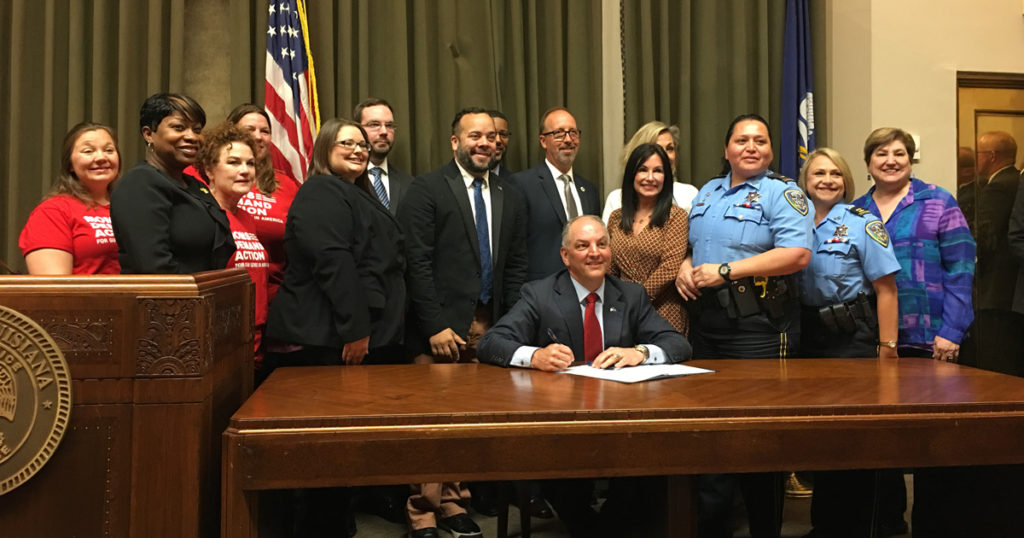 Lafourche Parish Sheriff Craig Webre announced a bill enacting a local process by which domestic abusers divest their firearms has been signed into law by Governor John Bel Edwards. Senate Bill 231, authored by Senator J.P. Morrell of New Orleans, calls for statewide adoption of a process created by the Lafourche Parish Sheriff's Office to track and monitor persons prohibited from possessing firearms due to a domestic battery conviction or qualifying protective order, as well as to assist in the divestiture of the firearms. Lafourche Parish Sheriff's Office representatives were present in Baton Rouge on Wednesday, May 23 to witness Governor Edwards sign the bill into law.
"This is a momentous occasion not only for the Lafourche Parish Sheriff's Office, but also for the fight against domestic violence," said Sheriff Webre. "We are proud to have our own process implemented statewide, but we are more excited that these laws and this process will ultimately help save lives."
In 2014, legislation was enacted wherein a person convicted of domestic abuse battery would be prohibited from possessing firearms for a period of ten years upon completion of sentence, probation, parole, or suspension of sentence. The law further mandated certain qualifying protective orders would also prohibit a person from possessing firearms for the duration of the order. The legislation did not, however, specify how the courts or law enforcement would notify and monitor these prohibited possessors.
"This presented an opportunity for us to employ creativity and innovation to develop a safe, effective, and practical mechanism in which to divest firearms," said Sheriff Craig Webre.
Lieutenant Valerie Martinez-Jordan of LPSO's Police Social Services section formulated a process wherein LPSO would identify those affected by the law, notify them, assist them with firearm divestiture, and track these individuals for the term of prohibited possession. This process required cooperation from the 17th Judicial District Court, municipal courts, the Lafourche Parish Clerk of Court, and the Lafourche Parish District Attorney's Office to ensure all requirements were met for the firearm prohibition to take effect.
"We monitor all prohibited possessors in our internal data system which is shared by the other law enforcement agencies throughout the parish," said Sheriff Webre. "Any time a law enforcement officer in Lafourche Parish encounters one of these individuals, they will immediately know the individual is prohibited from possessing firearms. If any firearms are discovered in that person's possession during the course of the investigation, they can be charged accordingly."
Senate Bill 231 was signed into law on May 23, 2018, and it will become law in October 2018. It calls for statewide adoption of the LPSO process by January 1, 2019, and includes stiffer penalties for violations of the original law. The final version of the bill ultimately passed with very little opposition in the legislature: 28-6 in the Senate and 93-0 in the House.
Over the coming months, LPSO will partner with the Louisiana Commission on Law Enforcement to offer training on the process throughout the state.
Since the 2014 legislation took effect and this process has been enacted, there have been NO shootings in Lafourche Parish by anyone prohibited from possessing firearms due to domestic abuse.
Governor Signs Bill for Statewide Adoption of LPSO Process for Firearm Divestiture for Domestic Abusers