Lafourche Parish Sheriff Craig Webre announced a New Orleans man was arrested after attacking two men early Tuesday morning. Courtney Garnett, 23, faces charges, including attempted murder, in the incident.
Just after 4:30 a.m. on Tuesday, June 26, deputies responded to a parking lot of a public utility office located off LA Highway 1in Thibodaux in reference to an attack on an employee. Upon arrival, deputies found a male in his 20s had been stabbed multiple times in the face and neck. The victim was transported to Thibodaux Regional Medical Center for treatment.
Through investigation, detectives learned a man, later identified as Courtney Garnett, attacked the male victim outside the building, stabbing him in the face multiple times with a knife. During the attack, another male employee saw what was taking place and rushed to assist. Garnett then rushed after the second employee and began striking him as well. The initial victim went to his vehicle and retrieved a firearm. As he did, Garnett left the other man, approached the first victim, and grabbed the weapon. As the two struggled over the gun, a single round was fired. Garnett then took the gun away from the victim and left the scene.
Meanwhile, responding deputies had located Garnett in a nearby field. During questioning, Garnett admitted to detectives that he was attempting to kill the first victim. The motive for the attack, however, is still under investigation.
Garnett was arrested and booked with Attempted Second Degree Murder and Aggravated Battery with a Dangerous Weapon. His bond is set at $250,000.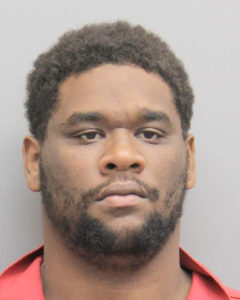 New Orleans Man Charged with Attempted Murder Following Tuesday Morning Attack