Lafourche Parish Sheriff Craig Webre announced the arrest of a Thibodaux felon who pulled a stolen handgun out while running from deputies. Raheem Green, 18, faces several charges following the incident.
At around 6:05 p.m. on Monday, deputies attempted to conduct a traffic stop near the intersection of LA Highway 3185 and Ridgefield Road in Thibodaux, but the driver of the vehicle failed to stop. The driver continued at a high rate of speed until finally stopping on Albert Street. At that time, the passenger, later identified as Raheem Green, exited the vehicle and fled on foot, and the driver continued. Deputies pursued Green and ordered him to stop. Green then removed an object from his waistband, and deputies utilized a Taser device. Green was taken into custody. Deputies retrieved the object Green had pulled from his waistband and discovered it to be a loaded handgun which was found to be stolen out of Lafayette.
Green was booked into the Lafourche Parish Detention Center in Thibodaux. He was charged with Illegal Possession of a Stolen Firearm, Possession of a Firearm by a Convicted Felon, and Resisting an Officer. His bond is set at $21,000.
The investigation is continuing as deputies attempt to seek the driver in the incident.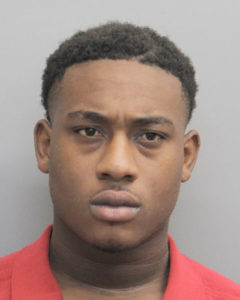 Convicted Felon Found with Stolen Handgun after Running from Deputies