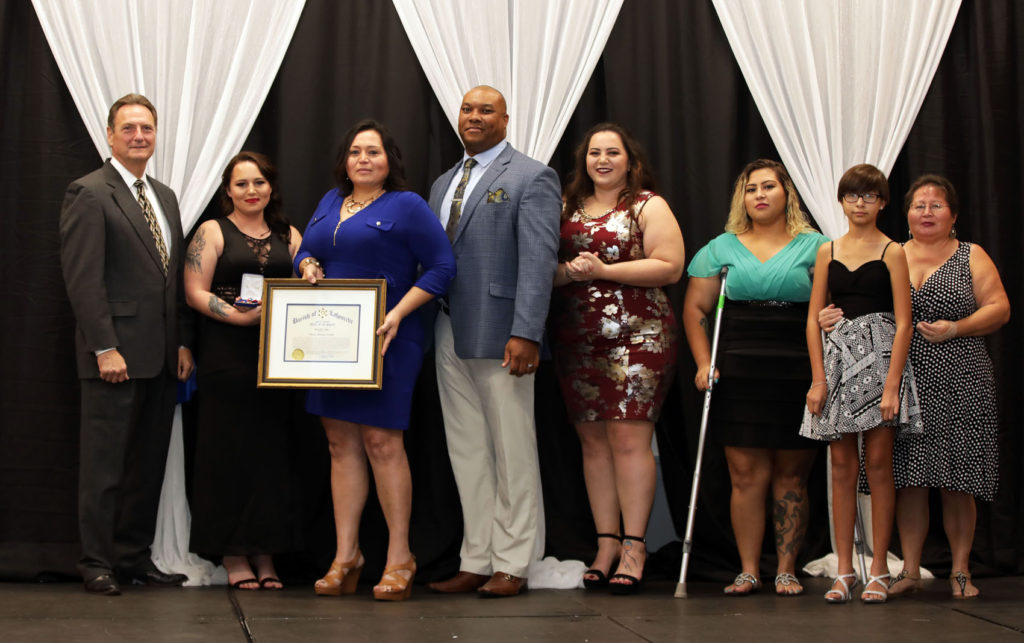 Several law enforcement officers and local heroes were honored at the 2018 Lafourche Pride Awards Banquet which took place on Saturday, September 15 at Nicholls State University. Lafourche Parish Sheriff's Office employees and local citizens were honored for feats of bravery, exceptional work, and dedication to public service during the 25th annual awards program.
Lt. Valerie Martinez-Jordan was awarded the Sheriff's Star, which is considered one of the highest honors at the Lafourche Parish Sheriff's Office. Lt. Martinez-Jordan was recognized for her outstanding work in the area of domestic violence awareness – specifically for developing a process for law enforcement to identify, track, and monitor domestic abusers who cannot possess firearms based on laws she helped pass in 2014. Her process was developed into a state law in 2018, and Lt. Martinez-Jordan now teaches that process to law enforcement agencies throughout the state.
Lt. Martinez-Jordan was one of many law enforcement officers and civilians honored, along with retirees Jane Bascle (13 years), Dale Savoie (14 years), Milfred Zeringue (15 years), Kristin Pitts (15 years), Gene Richard (20 years), DeAnn Barrios (20 years), Gail Meyers (23 years), Alvin Bourgeois (27 years), Mark Adams (28 years), and Chet Caillouet (31 years).
Eight individuals received Medals of Valor for boldness and courage when facing extreme danger. One was awarded to a citizen, Lynette Pitre, who shielded her seven-year-old nephew as they were being shot at during an incident in Golden Meadow in May 2018. Two deputies, Chasity Thompson and Aaron Buckley, received the honor for entering a home engulfed in flames and leading a man inside to safety.  Four law enforcement officers involved in a vehicle pursuit in the South Lafourche area in October 2017 were awarded Medals of Valor due to being shot at during the pursuit, and ultimately taking the suspect into custody. Those officers awarded included Sergeant Jeremy Milstead, Deputies Moe Verdin and Walter Theriot, and Louisiana State Trooper Richard Verdin.
A Thibodaux resident, Araya Henry, was given a Lifesaving Medal for pulling her own mother out from under a truck when she was in danger of being run over following a domestic incident involving two others. Deputy Jonathan Crabtree was also given a Lifesaving Medal for jumping into Bayou Lafourche around 3 a.m. one morning to save a woman who had crashed into the bayou. Also receiving Lifesaving Awards were Captain Cortrell Davis, Lieutenant Stanley Jones, Sergeant Denise Boudreaux, Sergeant Patrick Bowen, Agents Patrick Zaruba, Zachary Sciortino, and Deputies Aaron Buckley, Brittney Pecoraro, Michael Leone, Yaun Tullis, Blake Thibodaux, Moe Verdin, Lance LeBlanc and Mike Collason, Nurse Amanda Savoy, and Jay Guidry of Probation and Parole.
Explorer Captain Naomi Winston was honored with a Distinguished Service Award for her outstanding leadership on a local, regional and national level. She was one of six individuals to receive the award, which also included Dr. Bart Denys, a local cardiologist who also volunteers as a reserve deputy. Also honored with Distinguished Service Awards were Sergeant Blair Mitchell, Reserve Deputies James Wendell and La'Kita Robertson, and former employee, Henry Cancienne.
The LPSO Traffic Section and Range Safety Officers were commended for their outstanding work throughout the past year. Others receiving certificates of commendation included Lieutenant John Champagne, Sergeants Derek Champagne, Alex Diaz, Jeremy Milstead, Ronnie Verdon, Jeff Chamberlain, and Robert Mason, Detective Joseph Anderson, Detective Barry Hebert, Deputies Phillip Guidry, Charles Todaro, Joseph Sciortino III, Michelle Verrett, Agents Patrick Zaruba and Zachary Sciortino, Jay Guidry of Probation and Parole, and former traffic guard, Walter LeBlanc.
ABOUT LAFOURCHE PRIDE:
The Lafourche Pride Awards are held annually to recognize and honor Lafourche Parish Sheriff's Office employees and local citizens for feats of bravery, exceptional work, and dedication to public service. The Lafourche Deputies Association sponsors and organizes the program through the financial support of its members who are employees of the Lafourche Parish Sheriff's Office. Sheriff Craig Webre utilizes this annual event to publicly honor employees and civilians who perform commendable work, save someone's life, or perform their job in a distinguished and commendable manner.
Deputies and Citizens Honored at 2018 Lafourche Pride Awards