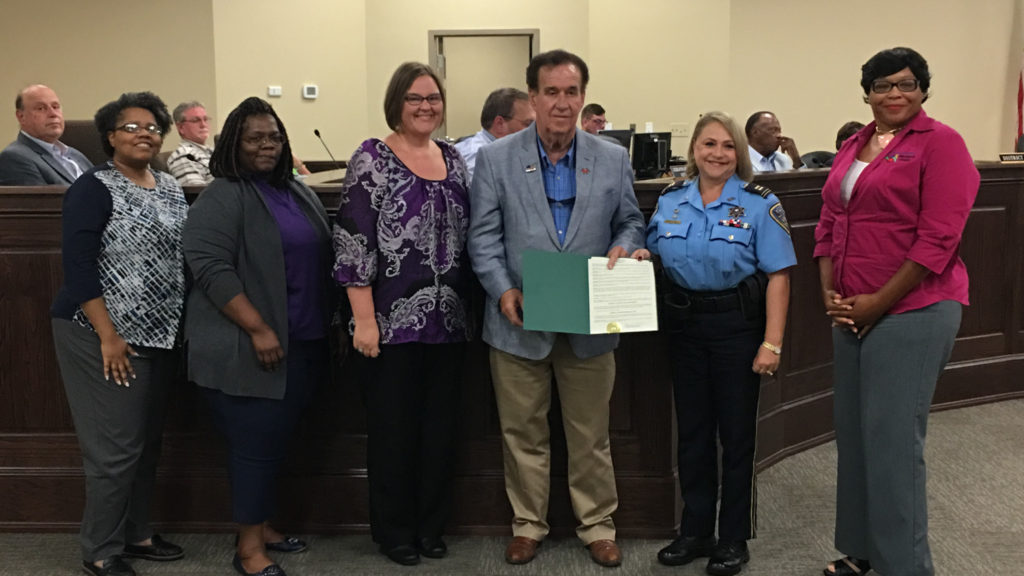 Sheriff Craig Webre announced the Lafourche Parish Sheriff's Office is promoting awareness of domestic violence throughout the month of October, which is recognized nationally as Domestic Violence Awareness Month. This year's theme is "Lafourche Parish Shines a Light on Domestic Violence." Despite it being one of the most chronically underreported crimes, Lafourche Parish answered 1,488 calls related to domestic violence in 2017. In that same year, 665 protective orders were issued in Lafourche Parish to victims of domestic violence who were seeking protection from the perpetrator.
On Tuesday, September 25, Lafourche Parish President Jimmy Cantrelle issued a proclamation declaring the month of October as Domestic Violence Awareness Month in Lafourche Parish. Throughout the month of October, everyone is encouraged to wear purple, the official color of Domestic Violence Awareness Month, to help bring awareness to domestic violence.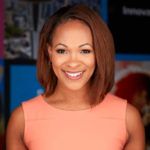 Kristin Pierce, an anchor and reporter with WWL-TV in New Orleans, will be the guest speaker at this year's annual vigil for domestic violence. The event will take place at 6 p.m. on Tuesday, October 16, 2018, at the Lafourche Central Market, located at 4484 Highway 1 in Raceland. The annual event is designed to remember the victims and honor and support the survivors of domestic violence. It is sponsored by the Lafourche Parish Sheriff's Office, The Haven, Lafourche Parish District Attorney's Office, and The P.A.C.T. Place Supervised Visitation and Monitored Exchange Center.
"The Lafourche Parish Sheriff's Office continues to lead the fight against domestic violence," said Sheriff Webre. "This year, we aided in the creation of a new law to implement a process statewide for identifying, notifying, and tracking domestic abusers prohibited from possessing firearms. We are now teaching that process to other law enforcement agencies throughout the state."
In 2014, the Lafourche Parish Sheriff's Office also aided in the creation of the state law which prohibits those convicted of domestic abuse battery and those with qualifying protective orders from possessing firearms. Since the passage of that law, there have been ZERO homicides perpetrated by prohibited possessors in Lafourche Parish.
According to the Violence Policy Center, Louisiana ranked 2nd highest in the country in the homicide rate among female victims killed by male offenders in incidents which included one victim and one offender in 2016. Nearly 1 in 4 women aged 18 and older have been the victim of physical violence by an intimate partner, and domestic violence is still the leading cause of injury to women.
For more information about the vigil, please contact The P.A.C.T. Place at (985) 532-4390 or at pact-place@lpso.net.
If you or someone you know is a victim of domestic violence, help is available! Call the Lafourche Parish Sheriff's Office Police Social Services at (985) 449-4476.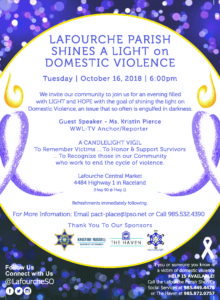 Lafourche Parish Shines a Light on Domestic Violence in October