Lafourche Parish Sheriff Craig Webre announced a reward is being offered for information leading to the arrest of a suspect wanted for stealing over $5,000 of merchandise from a Cut Off department store.
Shortly after 1:30 p.m. on October 8, 2018, deputies responded to a department store in Cut Off in reference to a theft. In reviewing surveillance footage, deputies learned a woman had attempted to pay for over $5,000 of merchandise and a $300 gift card using a credit card which was denied.  At one point, she distracted the cashier and left the store with the merchandise without paying for it. Deputies have also learned the woman later used the gift card at a Baton Rouge store location.
Anyone who can identify the suspect, or anyone who may have any other information on this case, is asked to submit a tip anonymously through Crime Stoppers Bayou Region by phone at 1-800-743-7433 or online at www.crimestoppersbr.org.  Tips can also be submitted using the P3 Tips app on your mobile device. Tipsters could be eligible for a reward of up to $1,000 in cash if the information leads to an arrest.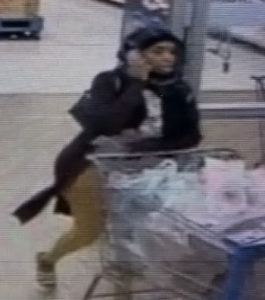 Woman Sought for Stealing Over $5,000 in Merchandise from Department Store