Lafourche Parish Sheriff Craig Webre announced a Raceland Man was arrested after deputies responded to a domestic disturbance and led to the seizure of over 137 ounces of marijuana. Damer Smith, 42, faces multiple charges following the incident.
Just after 5:30 a.m. on Saturday, November 17, deputies responded to a disturbance at Smith's residence on St. Louis Street in Raceland in which he was threatening to kill everyone in the house. Upon arrival, deputies knocked on the door. A man, later identified as Smith, asked who was at the door, and deputies heard a firearm being racked. As deputies took cover, Smith emerged and fired one round into the front yard area before retreating back into the residence. Deputies set up a perimeter and waited for assistance. As additional deputies arrived, they gave loud commands for Smith to exit the residence. After some time, Smith exited the residence and surrendered.
Deputies discovered four children inside the residence. While inside, deputies found a handgun which Smith is prohibited from possessing due to a domestic abuse battery. Deputies obtained a search warrant for the home and located a shotgun, various amounts of ammunition, over 137 ounces of suspected marijuana and various drug paraphernalia.
Smith was arrested and booked into the Lafourche Parish Detention Center. He was charged with Possession with Intent to Distribute Marijuana, Possession of a Firearm by a Person Convicted of Domestic Abuse Battery, Illegal Carrying of a Weapon in the Presence of a Controlled Dangerous Substance, Illegal Use of Weapons or Dangerous Instrumentalities (Aggravated Assault), Domestic Abuse Aggravated Assault with Child Endangerment, and Possession of Drug Paraphernalia. He was also booked on an outstanding warrant for Contempt of Court. His bond is set at $102,000.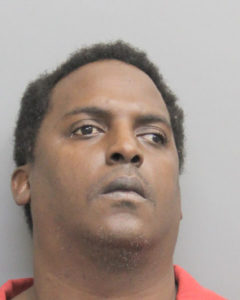 Disturbance Call Leads to Arrest of a Raceland Man for Illegal Possession of Firearm and Marijuana