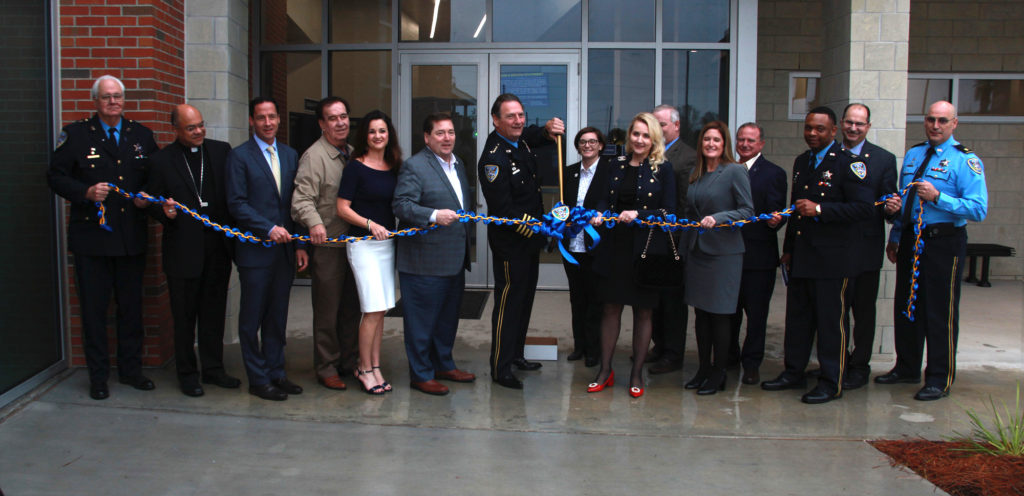 The Lafourche Parish Sheriff's Office hosted a grand opening ceremony for the Lafourche Parish Correctional Complex on Wednesday, December 19. Over 300 people were in attendance for the event.
"Today is an historic and monumental day in the Lafourche Parish criminal justice system," said Sheriff Craig Webre during his remarks at the ceremony. "My staff and I are forever grateful and honored to be part of and witness to what is truly a once in a lifetime opportunity: the grand opening of the new Lafourche Parish Correctional Complex."
The new $40 million facility replaces the Lafourche Parish Detention Center which was built in 1976. The Correctional Complex can house up to 533 inmates, compared to 245 at the existing jail. The Sheriff's Office currently plans to move inmates from the Detention Center to the new Correctional Complex in January 2019. The facility measures at approximately 125,000 square feet. Sheriff Webre stated, "While vast in size, we do not subscribe to the old adage, 'Build it and they will come.' Instead, the premise we subscribe to is, 'Build it right, and they won't come back.'"
Captain Cortrell Davis, warden at the current jail and future warden of the new Correctional Complex, was one of several individuals to address those in attendance. "We are not here to celebrate a jail… we are here to celebrate change," said Captain Davis.
The Correctional Complex will focus on reform and rehabilitation. "For far too many years we have cycled people in and out of the revolving door of the jailhouse," said Sheriff Craig Webre. "Some of these individuals, as a practical matter, are serving a life sentence 30 days or six months at a time."
Matthew Block, Executive Counsel to Governor John Bel Edwards and Seth Smith, Chief of Operations for the Louisiana Department of Corrections, also provided remarks at the event. Diocese of Houma-Thibodaux Bishop Shelton Fabre offered a blessing of the facility.
The facility was designed by GraceHebert Architects in cooperation with Duplantis Design Group. Yates Construction was the Construction Manager at Risk (general contractor) for the project.
Lafourche Parish Correctional Complex Grand Opening Ceremony Held in Thibodaux