Lafourche Parish Sheriff Craig Webre announced a reward is being offered for information leading to the arrest of three suspects wanted for a series of vehicle burglaries and the theft of a vehicle in Raceland. Warrants have been issued for the arrest of Andre Antonio Brown, 30, of New Orleans. The other two suspects have not yet been identified.
At around 12:15 a.m. on Friday, January 4, deputies responded to a report of a stolen vehicle and a vehicle burglary in the 200 block of Landmark Drive in Raceland. A gray 2012 Toyota Tundra pickup had been stolen, and a second vehicle at the residence was burglarized. During the course of the day, detectives investigated several other vehicle burglaries and attempted burglaries reported on that street.
During the course of the investigation, detectives received images and videos of the suspects. Most notably, a concerned citizen noticed the stolen vehicle at a gas station and obtained video of the driver. Investigators were able to identify the suspect as Andre Brown and obtained warrants for his arrest for six counts of Simple Burglary of a Motor Vehicle and one count of Theft of a Motor Vehicle. He also has seven outstanding warrants for Contempt of Court.
Anyone who knows Andre Brown's whereabouts or anyone with information on the other two suspects in this case is asked to submit a tip anonymously through Crime Stoppers Bayou Region by phone at 1-800-743-7433 or online at www.crimestoppersbr.org. Tips can also be submitted using the P3 Tips app on your mobile device. Tipsters could be eligible for a reward of up to $1,000 in cash if the information leads to an arrest.
Meanwhile, detectives are still investigating the burglaries. Residents of Landmark Drive and adjacent streets are asked to check their vehicles for signs of burglary or attempted burglary. Residents are also asked to check surveillance videos in hopes of obtaining video of the other two suspects. To report a burglary or any video of the suspects, please call (985) 532-2808.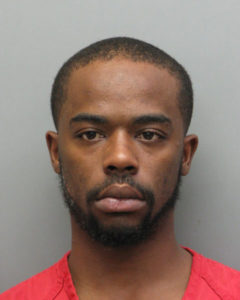 Three Suspects Sought for Vehicle Theft and Burglaries in Raceland