Lafourche Parish Sheriff Craig Webre announced the arrest of a Cut Off business owner for allegedly defrauding clients out of several hundred thousand dollars. Kristian "Kris" Gaudet, 45, is charged with two counts of Felony Theft. The investigation is continuing into Gaudet, the owner of Kris Gaudet Insurance and Financial Services, as detectives have found evidence of theft totaling near $1 million since 2017. The Lafourche Parish Sheriff's Office is conducting this investigation in coordination with the FBI, Louisiana Attorney General Jeff Landry's Office, and the Fraud Division of the Louisiana Department of Insurance.
Detectives began an investigation in late 2018 when a couple from Cut Off became suspicious of their investments with Gaudet. They had found discrepancies in the documentation for an investment of $350,000 made to "Winston Financial," which was found to have been registered in Louisiana by Gaudet in 2012. Detectives learned Gaudet had provided false addresses and other information for the company. Investigators obtained a search warrant for Gaudet's financial records and found the couple's check was deposited into the Winston Financial account in August 2017. A few days later, Gaudet transferred a majority of the deposit to another account for which he was the primary account holder. The money was then used for purposes for which it was not intended.
As the investigation continued, detectives discovered another instance in May 2018 in which another couple had invested money with Gaudet who then transferred a bulk of that investment to another account. In this instance, Gaudet used the money to purchase a residence in Larose. Detectives then obtained warrants for Gaudet's arrest.
On January 31, 2019, detectives made contact with Gaudet and arrested him on the warrants. He was transported to Thibodaux and booked into the Lafourche Parish Correctional Complex on two counts of Felony Theft per the warrants. His bond is set at $1 million.
Detectives say their investigation has revealed several other transactions wherein Gaudet frequently acquired and used money for personal gain from accounts intended for client investments. Detectives have found that since 2017 Gaudet allegedly used approximately $1 million for personal gain which was intended for client investments. In coordination with the FBI, detectives have also learned Gaudet allegedly used money clients paid for insurance to purchase real estate for himself. These actions may stem back as far as 2012.
According to the Louisiana Department of Insurance, Gaudet has been issued an official Cease and Desist notice, and his Louisiana license has been suspended. Department officials have notified the Financial Industry Regulatory Authority (FINRA) of the investigation. As a result, Gaudet is barred from having any association with any financial agency associated with FINRA.
Detectives are asking anyone who has made an investment with Gaudet and his company since 2012 to please come forward if your investment has not been fully returned. Anyone with insurance policies obtained through Gaudet and his company is also asked to contact their primary insurer listed on documents to ensure your account is in good standing. Anyone with any discrepancies is asked to contact the Lafourche Parish Sheriff's Office Criminal Investigations Division at (985) 532-4320.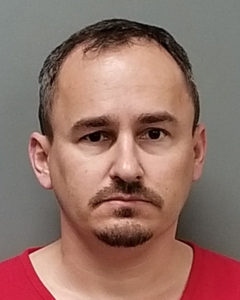 Cut Off Business Owner Charged with Stealing Hundreds of Thousands of Dollars from Clients