Lafourche Parish Sheriff Craig Webre announced a convicted felon carrying a stolen firearm was arrested during a traffic stop in Bayou Blue on Thursday. Justin Johnson, 24, faces several charges in the incident as he also attempted to flee and had marijuana in his possession.
At around 11:15 a.m. on Thursday, February 7, deputies conducted a traffic stop on a vehicle traveling on LA Highway 316 in Bayou Blue. During the course of the stop, deputies noticed the rear-seat passenger, later identified as Johnson, was not wearing a seat belt and appeared to be extremely nervous. He was asked if he had a weapon on him, and he said he did not. While speaking to him, deputies asked Johnson to step out of the vehicle. As he did, deputies noticed what appeared to be a handgun under his shirt. At that point, one of the deputies attempted to detain Johnson, but he resisted. As the deputy attempted to grab the firearm, a struggle ensued, and the handgun fell to the ground. As deputies secured the firearm, Johnson fled the scene on foot. Deputies pursued, and he was taken into custody. Johnson was found to have a small amount of marijuana and a digital scale in his possession as well as $635 in cash. The firearm Johnson was carrying had a loaded extended magazine with a round in the chamber. The firearm was found to be stolen out of Port Allen, La., and Johnson was found to have a prior felony conviction.
Johnson was booked into the Lafourche Parish Correctional Complex in Thibodaux. He was charged with Possession of a Firearm by a Convicted Felon, Illegal Possession of a Stolen Firearm, Possession of Marijuana, Resisting an Officer, and no seat belt. His bond is set at $78,600, and he is also being held for Louisiana Probation and Parole.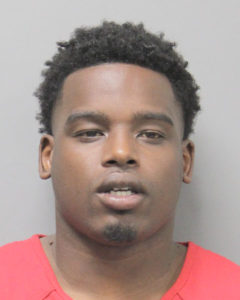 Deputies Encounter Convicted Felon with Stolen Gun on Traffic Stop