Lafourche Parish Sheriff Craig Webre announced a Cut Off business owner arrested for Felony Theft in January faces additional charges as the investigation continues. Kristian "Kris" Gaudet, 45, was initially arrested for two counts of Felony Theft. Additional charges were filed Friday including multiple counts of Money Laundering, Racketeering, Exploitation of the Infirmed, and five more counts of Theft. This investigation is continuing in coordination with the FBI, Louisiana Attorney General Jeff Landry's Office, and the Fraud Division of the Louisiana Department of Insurance.
As previously released, the investigation began in late 2018 when a couple became suspicious of investments made with Gaudet, owner of Kris Gaudet Insurance and Financial Services. Detectives found Gaudet provided false information on an investment company, Winston Financial, which he also owned. Detectives discovered Gaudet deposited the couple's $350,000 investment into a Winston Financial account and then transferred a majority of the money to another bank account he held. Detectives found a second instance in May 2018 in which he made similar transactions. Gaudet was arrested on January 31, 2019, and he was booked on two counts of Felony Theft. His bond was set at $1 million, and he remains at the Lafourche Parish Correctional Complex in Thibodaux.
Since that time, several of Gaudet's clients have come forward, and detectives identified five more instances of theft. In all seven cases, including the first two, detectives found evidence of money laundering by Gaudet in an attempt to conceal the source of the funding he used for personal gain. In three cases, the victims Gaudet allegedly exploited were 60 years of age or older. Due to the number of cases and the overall pattern of criminal activity, detectives also developed evidence of racketeering.
Detectives obtained warrants, and Gaudet was booked on the new charges on Friday, February 8. He is charged with five additional counts of Felony Theft (seven counts total). He was also booked on new charges including seven counts of Money Laundering, three counts of Exploitation of the Infirmed, and one count of Racketeering. His bond amount has now increased to a total of $4.75 million.
Once again, detectives are asking anyone who has made an investment with Gaudet and his company since 2012 to please come forward if your investment has not been fully returned. Anyone with insurance policies obtained through Gaudet and his company is also asked to contact their primary insurer listed on documents to ensure your account is in good standing. Anyone with any discrepancies is asked to contact the Lafourche Parish Sheriff's Office Criminal Investigations Division at (985) 532-4320.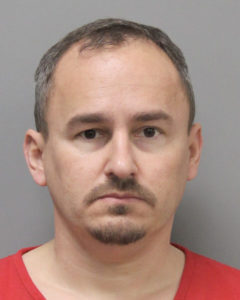 UPDATE: New Charges for Cut Off Businessman Including Racketeering and Money Laundering