Lafourche Parish Sheriff Craig Webre announced the arrest of a suspected drug trafficker on Wednesday, April 10. Narcotics agents found Justin Monley, 25, of McComb, Mississippi with drugs and several firearms during a traffic stop.
Narcotics agents were conducting an investigation into Justin Monley allegedly trafficking narcotics from Mississippi to the South Lafourche area. On April 10, 2019, agents found Monley to be driving a car south on LA Highway 308 in Lockport. Agents observed Monley's car to have what appeared to be illegal tint, and his vehicle was crossing the center line. Agents conducted a traffic stop and found Monley to be the only person in the vehicle. They also detected a strong odor of marijuana coming from inside the vehicle. Agents asked Monley to step out of the vehicle, and as he did, they noticed a bag of suspected marijuana near the driver's seat.
Agents asked Monley if he had anything illegal inside the vehicle, and he told them he had a marijuana cigar inside the center console. During a search of the vehicle, agents discovered approximately 1.3 pounds of suspected marijuana, 13.4 grams of suspected crack cocaine, and 3.4 grams of suspected cocaine. The total street value of the seized narcotics is approximately $7,760. During the search, agents additionally located $1,000 in cash, a semi-automatic rifle, a revolver, and two semi-automatic handguns. One of the semi-automatic handguns was found to be stolen out of Lafayette, Louisiana. Agents also discovered Monley had prior felony criminal convictions.
Monley was arrested and booked into the Lafourche Parish Correctional Complex in Thibodaux. He was charged with Possession with Intent to Distribute Crack Cocaine, Cocaine, and Marijuana, as well as Illegal Carrying of a Weapon in the Presence of a Controlled Dangerous Substance, Possession of a Firearm by a Convicted Felon, Illegal Possession of a Stolen Firearm, Possession of Drug Paraphernalia, illegal tint, and improper lane usage. His bail is set at $31,500.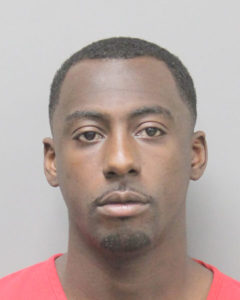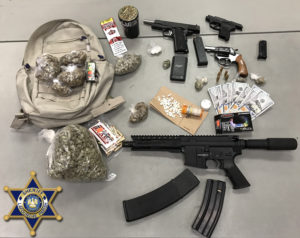 Suspected Drug Trafficker Found in Possession of Drugs and Firearms