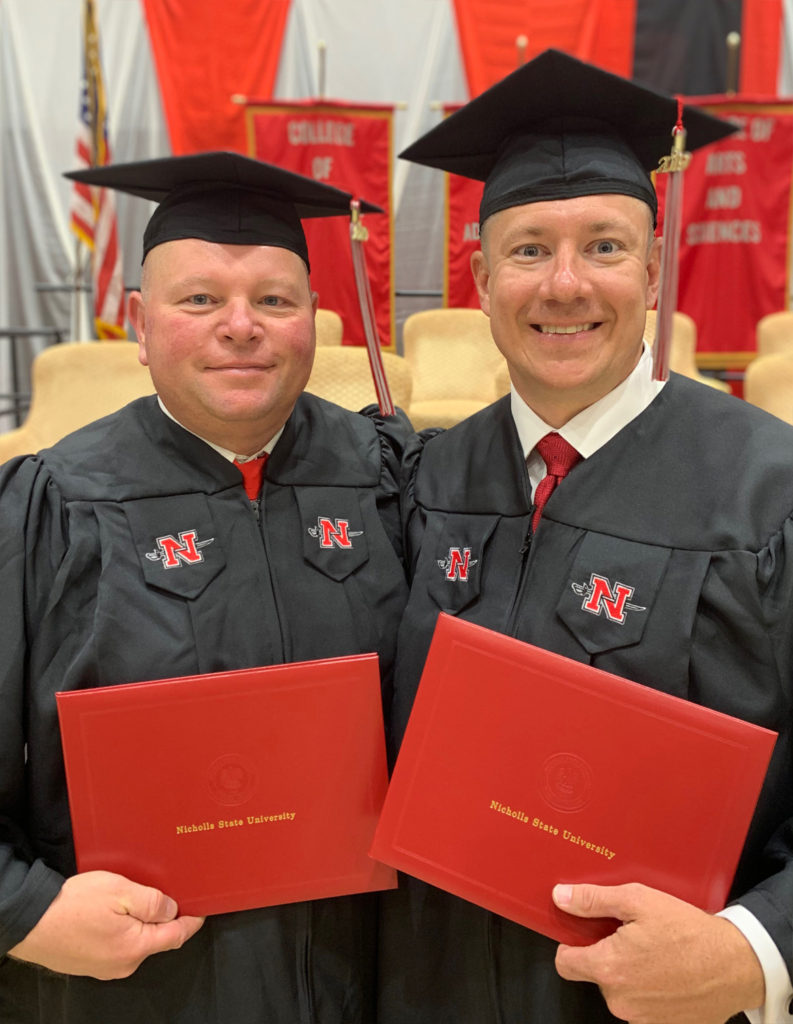 Sheriff Craig Webre congratulated two Lafourche Parish Sheriff's Office employees who were among the first group of Criminal Justice degree graduates at Nicholls State University. Captain Lafate Day and Lieutenant Michael Beck Jr. each graduated with a Bachelor's degree in Criminal Justice on Saturday.
Nicholls State University recently instituted a Bachelor's degree program in Criminal Justice. Captain Day, Director of the Lafourche Sheriff's Regional P.O.S.T. Training Academy, and Lieutenant Michael Beck, a patrol shift supervisor, were among the first class to graduate in the new program. The two did so while taking advantage of the education benefits afforded to all Lafourche Parish Sheriff's Office employees.
"The people of Lafourche Parish deserve the best-educated officers we can provide them, and I am committed to supporting their goals of achieving college degrees," said Sheriff Webre.
For employees attending Nicholls State University or L.E. Fletcher Community College, the Lafourche Parish Sheriff's Office will cover 100% of tuition if pursuing an Associate's degree or Bachelor's degree in criminal justice, or in the fields of government, sociology, or psychology, depending on the employee's job assignment. LPSO will also cover a portion of tuition expenses for any employee seeking a graduate degree in those fields. Sheriff Webre also offers additional monthly payment for any employee who possesses a college degree.
"Sheriff Webre created a win-win situation for us as employees," said Lt. Beck. "Our sheriff covers our tuition and further compensates us for earning our degree, giving you every reason for us to better ourselves in our roles as public servants."
"Sheriff Webre rewards hard work and dedication," said Captain Day. "I was able to earn my Associate degree in 2001 and now my Bachelor degree. The Sheriff is a role model who earned his degrees while working and has provided the same opportunity for those who work for him. I am blessed and honored to work for Sheriff Webre and an agency that makes this possible ."
In 2017, the Lafourche Parish Sheriff's Office received the When Work Works award from the National Society of Human Resource Management for excellence in effective workplace strategy and outstanding employee benefits. LPSO was also named one of 2018's Best and Brightest Companies to Work For in the nation. The college educational benefit is a prime example of how LPSO distinguishes itself as a leading employer.
Sheriff Webre congratulates all recent graduates as they look forward to a bright and exciting future.
Sheriff Webre Congratulates Nicholls State University Criminal Justice Graduates