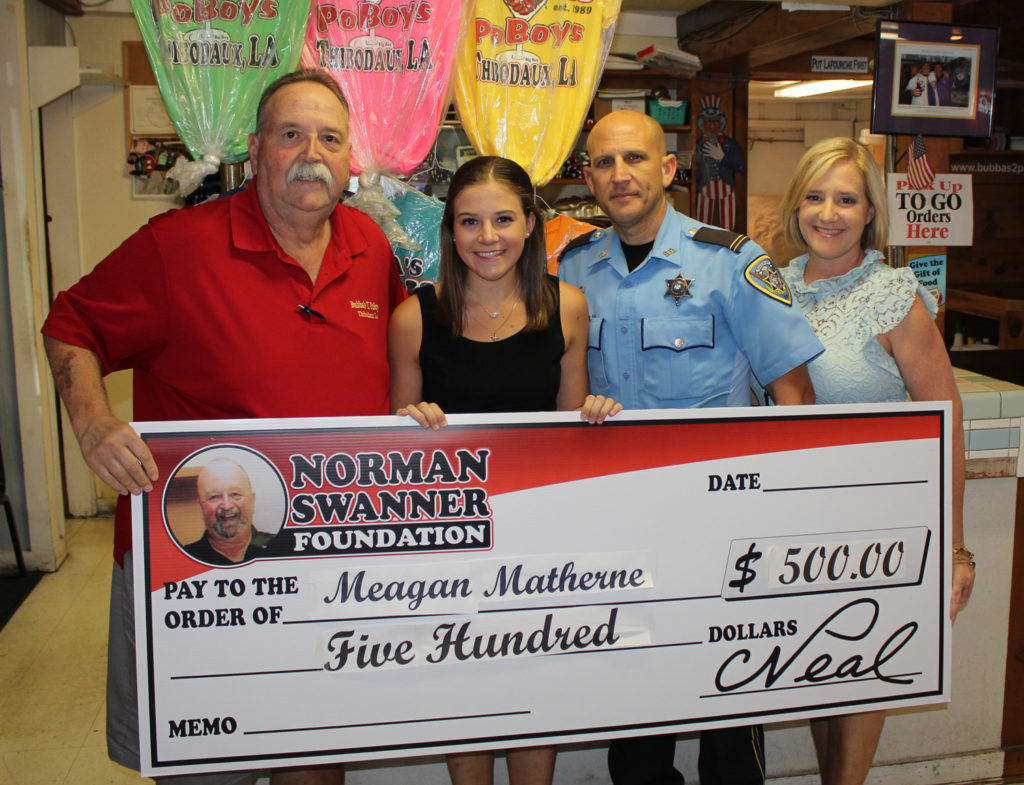 Sheriff Craig Webre announced Thibodaux High School senior Meagan Matherne has been selected as the recipient of the 2019 Norman Swanner Foundation Scholarship award for Lafourche Parish Sheriff's Office employees and family. She is the daughter of Deputy Jason Matherne, a school resource officer. Neal Swanner presented Matherne with her award on Tuesday, May 21 on behalf of the Norman Swanner Foundation.
Matherne received the $500 scholarship to assist her with expenses as she plans to attend Nicholls State University and major in Pediatric Nursing. On her application, Matherne indicated plans to pursue a career locally at Thibodaux Regional Medical Center.
"Ms. Matherne is a well-rounded, outstanding student who has received several honors and is involved in numerous extra-curricular activities," said Sheriff Webre. "It is always great to see our top students planning to attend school and pursue a career here in Lafourche Parish. I wish Meagan the best of luck as she pursues her degree at Nicholls State University."
The Norman Swanner Foundation awards a $500 scholarship annually to one Lafourche Parish Sheriff's Office employee or immediate family member who plans to enroll in the fall as a full-time student at Nicholls State University, L.E. Fletcher Technical Community College, or South Central Louisiana Technical Community College. The scholarship is awarded as a gift, not a loan, to defray the cost of tuition and related expenses in higher education.  An independent board of review selects the winner of the scholarship.
The Norman Swanner Foundation is a non-profit organization created in memory of Norman Swanner, a Thibodaux resident who passed away on November 8, 2006. Swanner was a City Councilman at the time of his death. Swanner's daughter, Jamie Beth Swanner, also passed away on December 24, 2012. The Foundation funds several awards and scholarships for students at Nicholls State University and several high schools throughout the region.
2019 Norman Swanner Foundation Scholarship Awarded to Thibodaux High School Senior