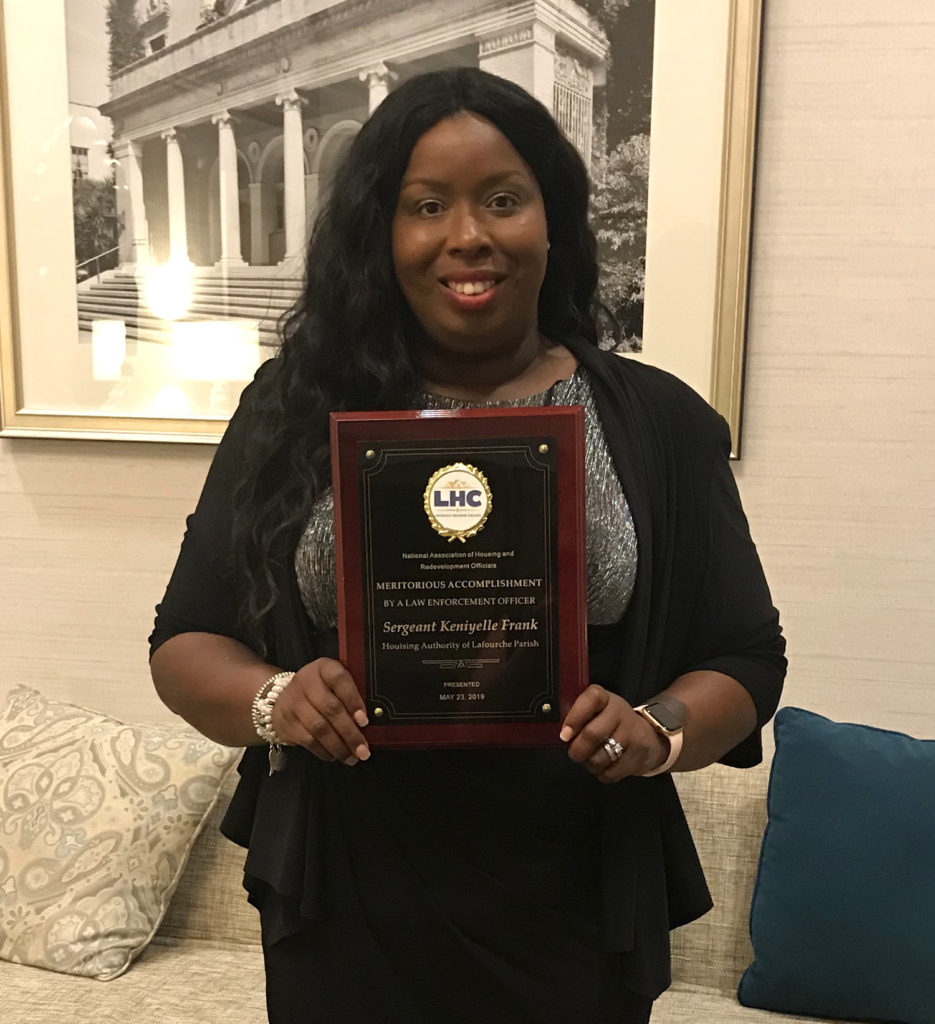 Lafourche Parish Sheriff Craig Webre congratulated Sergeant Keniyelle "Nicole" Frank who has been recognized by the Louisiana Housing Council for Meritorious Accomplishment by a Law Enforcement Officer. The award was presented Thursday evening at an awards ceremony at the Louisiana Housing Council's Annual Legislative Conference in Baton Rouge.
Sergeant Frank said, "I would like to thank Sheriff Webre for giving me the opportunity and tools needed to mold me into the officer I am today. I also sincerely thank the Louisiana Housing Council for this extraordinary honor."
Sergeant Frank has served as the Housing and Urban Development Officer for the Lafourche Parish Sheriff's Office for the past 14 years. She oversees and is the direct contact for tenants in seven housing developments and over 250 residents in Section 8 housing. She works to keep all housing residents safe and has spearheaded various efforts of community outreach with those residents.
"Sergeant Frank is an incredible advocate for the community," said Sheriff Webre. "I have always seen the best results when I can identify an employee's passion and place them in a role where they can excel. Sergeant Frank has certainly been a valuable asset to the Lafourche Parish Sheriff's Office and the community she serves. She is very much deserving of this recognition."
Founded in 1962, the Louisiana Housing Council is a statewide organization of professional people who are involved in Housing and Community Development. The council is comprised of dedicated individuals and agencies working together to improve housing programs. One of the main goals of the council is to provide training to its membership in order to enhance the professionalism of the entire industry. The Council's parent organization is the National Association of Housing and Redevelopment Officials based in Washington, DC.
LPSO Sergeant Honored by Louisiana Housing Council