8/14/2019 UPDATE: Robertson has been arrested in Terrebonne Parish. 
ORIGINAL RELEASE:
Lafourche Parish Sheriff Craig Webre announced a Raceland man is wanted for several charges stemming from domestic incidents. Jawuan Robertson, 23, of Raceland is wanted for multiple counts of Domestic Abuse Battery, Second Degree Sexual Battery, and several other charges.
Earlier this week, deputies made contact with a woman regarding ongoing domestic abuse. Deputies discovered her to have injuries to the face, limbs, and body, and they learned she had been beaten by Jawuan Robertson. She was taken to a local hospital for treatment.
Through investigation, deputies learned several incidents had occurred between Robertson and the victim over the course of a week in which Robertson struck the victim multiple times. During one incident, Robertson struck the victim with a handgun. Robertson is prohibited from possessing firearms due to a previous conviction of domestic abuse battery. During another incident, Robertson committed a sexual battery while inflicting bodily harm to the victim. Prior to her contacting police, he also took her cell phone and threatened her not to contact law enforcement.
Following the investigation, warrants were obtained for Robertson's arrest. The charges include Felony Domestic Abuse Battery, two counts of Misdemeanor Domestic Abuse Battery, and Second Degree Sexual Battery. He is also wanted for False Imprisonment (Offender Armed with Dangerous Weapon), Possession of a Firearm by a Person Convicted of Domestic Abuse Battery, and Theft.
Investigators are asking for the public's help to locate Jawuan Robertson. Anyone with any information on his whereabouts is asked to submit a tip anonymously through Crime Stoppers Bayou Region by phone at 1-800-743-7433 or online at www.crimestoppersbr.org. Tips can also be submitted using the P3 Tips app on your mobile device. Tipsters could be eligible for a reward of up to $1,000 in cash if the information leads to an arrest.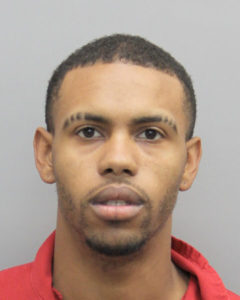 Raceland Man Sought Following Domestic Incident